Remember the story from April.  I posted it here.
NJ: Muslim Candidate for Congress Says She is Getting Death Threats
In another in my series of posts I'm calling 'Down the Memory Hole'—forgotten because the media doesn't really want to report anything that doesn't fit their 'world view,' I wondered whatever happened to Congressional candidate Amani al-Khatahtbeh.
Back in April she complained that someone called her home with a message:
On the evening of April 21, Al-Khatahtbeh reportedly received a phone call from an unknown number threatening to kill her and her family. She received the threat shortly after a virtual town hall she hosted on Instagram.

The caller said in part: "Your parents live at [address]. I will f**king kill them and. . .I will torture them and feed them bacon and f**king pork…As soon as you get off the phone, I'll f**king go to his house…"Ni**er, you're Muslim, you f**king ugly Arab Muslim. You terrorist."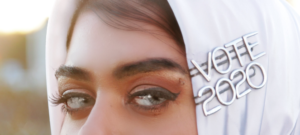 Not only did CAIR jump on the bandwagon with its Islamophobe dog whistle but she garnered the support of dozens of prominent women who came to her defense.
Whatever the truth is about the death threats, it didn't help her win the primary election where she received only 2.8% of the vote.
Yesterday I went to see if I could find out whether the perpetrator of the death threats had been identified and guess what I found—NOTHING!
Not a mention that I could find about whether there was even any investigation of the allegations.  But you see it almost doesn't matter if the call even happened because it was planted in the minds of those following the story that there was such a despicable person (and he surely must be a redneck Trumpster!).
Maybe I didn't look hard enough, maybe you can find the truth about whether hers is another hate crime hoax, but in the meantime down the memory hole it goes…..
See the previous two posts in my new category—'Down the Memory Hole!'