Yes, apparently he is.  Unless you are a news junky who goes beyond the legacy media headlines, you likely have no idea who Cannon Hinnant is.
Hinnant was five years old and expected to start kindergarten this year, but that will never be. He won't play sports, go to the prom, get married or have kids of his own because he is dead—a little innocent white boy killed by his black neighbor for no apparent reason as he rode his bike in the neighborhood.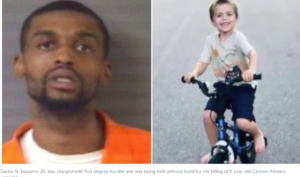 This is what happened last Sunday…..
From WSET in Wilson, North Carolina:
'I screamed': Father of slain 5-year-old says he can't fathom why his son was killed
WILSON, N.C. (WSET) — The 5-year-old boy who was shot to death outside his father's home in Wilson, North Carolina has been laid to rest.

Witnesses told police that Cannon Hinnant was riding a bike when his father's neighbor walked up to him and shot him in the head in front of his two sisters, ages 8 and 7.

Capt. Steve Stroud with the Wilson Police Department said officers and emergency personnel performed first aid before the boy was taken to Wilson Medical Center, where he died.
"They were just playing in the yard like any other day," Austin Hinnant, Cannon's father, told WRAL.

A neighbor, who told WRAL she witnessed the shooting from her window, said Sessoms ran up to Cannon and put the gun to his head before running back into his own home. She called 911 after seeing Austin's reaction.

Police said 25-year-old Darius Nathaniel Sessoms was arrested Monday. He's charged with first-degree murder and is being held without bond.

Austin told the news station that Sessoms had been over to his home the day before, sat on his porch and drank beer, and they have lived next to each other for eight years.

"The Lord says to love our neighbor. I have plenty of food to go around. I just wanted to be nice," Hinnant said. "There wasn't anything between me and him, any bad blood whatsoever, for him to have a reason to do this."

[….]

Austin said he doesn't know why Sessoms killed Cannon and police have not released any details as to a possible motive.

During Cannon's funeral Thursday, his youth pastor and grandfather talked about his big smile and his even bigger heart.
I knew that VDARE would likely have some comment on the dreadful story even as the big media avoided it, and they do in a piece by Paul Kersey:
His Name Is Cannon Hinnant: Five-Year Old White Boy Shot and Murdered Execution-Style by Black Neighbor
(After explaining how it came to be, a suggestion that maybe a sea change is coming.  We can only hope.)
With what happened to Cannon Hinnant, though, we might be seeing the early stages of a profound shift in thinking, where the story of a five-year-old white child murdered execution-style by his black neighbor and the complete silence from the corporate media (that just spent nearly three months canonizing a black man who once put a gun to the belly of a pregnant woman he was robbing in a home invasion and then died of fentanyl overdose while resisting arrest in Minneapolis) provides the much-needed realization to a lot of people that to our elite, white lives don't matter.

It takes dramatic examples to shake people from their apathy and indifference toward the evil peddled as morality by our elite.

His name is Cannon Hinnant. Right now, tens of millions are learning his name and how he died. They are starting to realize that to our elite, white lives don't matter. They are asking why this story isn't all over every media outlet, yet George Floyd — a convicted felon — somehow became a hero worthy of burning down cities, tearing down statues, and momentarily losing all sanity over.

And once they realize why this is, they'll learn the truth of interracial crime.

What most people implicitly know, stories such as Cannon Hinnant's execution-style murder by his black neighbor make the explicit possible.

Their Lives Matter Too.
The Blaze has a piece too:
'#SayHisName' trends after mainstream media's silence on the atrocious killing of 5-year-old Cannon Hinnant
By Wednesday night and into Thursday morning, the hashtag #SayHisName trended on Twitter. Many, including Jason Howerton, pointed out that there was zero coverage of Cannon Hinnant's murder by several mainstream media networks.
And, see also that #JusticeforCannon is trending.
See if you can help get this story out. Let's shame the media hypocrites into reporting it even if only one one hundredth of what they did for George Floyd!
It is sad, the innocent boy should rest in peace and we should pray for the family, but unfortunately we now must fight like the Left fights. If we don't, they win.
If you have trouble (if you feel like it is playing dirty), then think about how this story would be playing if a little black boy riding a bike was shot at point blank range by a white man.
Besides spreading the word on social media, one thing you can do is make a poster for any rally you attend that says something like Justice for Cannon, or Say His Name—Cannon Hinnant on it and maybe force reporters to pay attention.