Over at Refugee Resettlement Watch I keep a close eye on a favorite issue of the Left and that is their prediction that millions of "climate refugees" will be surging across the globe looking for new homes where you live.  So every day I look through alerts on the subject.
(See my category on Climate Refugees at RRW.)
The number of alerts for stories on the "climate catastrophe" topic are expanding exponentially, including ones like this about how climate change is responsible for rich people leaving coastal Florida and thus pushing gentrification into low income neighborhoods inland.  The theme of course is that the rich are going to hurt the poor (again).
But, I have noticed a new angle from the hard Left (because they never miss a beat and famously never let a good crisis go to waste) including now linking the Chinese Virus 'crisis' to climate change (yes, making any stretch they can to get their message out).
Here at a demonstration in London this week, Extinction Rebellion's banner says it all.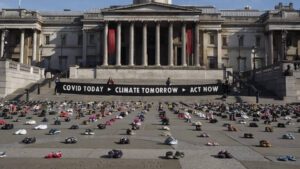 From Democracy Now:
"
COVID

 Today, Climate Tomorrow": Climate Activists Stage Protest Installation in London
In Britain, climate activists from Extinction Rebellion staged a protest in London's Trafalgar Square Monday, lining up over 2,000 pairs of children's shoes to draw attention to the ongoing threat of climate catastrophe. Activists are demanding the government tackle the climate crisis and refuse to bail out extractive industries as part of the coronavirus recovery effort. A banner reading "COVID Today, Climate Tomorrow, Act Now" was unfurled at the protest. "One crisis doesn't stop because another starts," said Extinction Rebellion.
And, here NY Magazine is linking Corornavirus and Climate too in a lengthier description of a doomsday scenario.
The author predicts a much hotter summer (I wish it would get here because it is a cold spring where I live!). However, the full impact of their climate catastrophe prediction won't be felt until 2070.  So I leave it to you youngsters to report when that day comes.