A regular reader of RRW and 'Frauds and Crooks', Michael Peppe, praised MD Delegate Kathy Szeliga in a comment to another post.
I thought it was important enough to post his praise as a stand alone post here at 'Frauds and Crooks' where I haven't talked much about the sanctuary issue.
The Open Borders activists in Maryland are pushing for Maryland to join the list of Sanctuary States in the US and law enforcement officers from around the state are fighting back with the help of one tough member of the Maryland House of Delegates.
Here is Michael Peppe's comment to me:

Maryland State Delegate Kathy Szeliga has written a truly chilling, horrifying and eye-opening newsletter to her constituents about her fight to stop activists and Democrats from making Maryland a "Sanctuary State".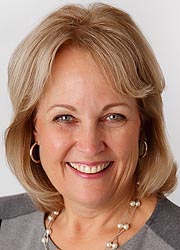 Among other things, she recounts two heartbreaking anecdotes, one of a 14-year-old girl, witness to a crime, who was brutally murdered by thugs who were able to do so, having been released by a Sanctuary County, undeported, thwarting an ICE detainer. Another story recounts an eleven year old girl, molested by her own illegal Mexican grandfather, who'd been similarly released to do so, again contrary to an ICE detainer.
"Disturbing" doesn't even cover it. Here's an excerpt:
Crime continues to be the number one issue people across our state are concerned about. Baltimore City has been named the most dangerous city in America after 4 years of record murders and shootings. Making Maryland a sanctuary state will make our state more dangerous and put violent criminals on the streets. Shielding criminal illegal immigrants from law enforcement harms innocent people.

Take the case of 14 year old Ariana Funes-Diaz in Prince George's County less than one year ago. She witnessed an assault and stepped in to stop it. When those involved worried she could tell the police, she was brutally murdered; forced to strip, beaten with a baseball bat, slashed with a machete, her dead body left in a tunnel. Two of her three killers were jailed a year prior on a robbery case and instead of cooperating with the ICE detainer, corrections officials released them back into the community. They are MS13 gang members, had previously committed crimes elsewhere in the USA and had been deported.
But here's the real heart of the issue, succinctly put:
Repeat violent offenders, regardless of their immigration status, should be in prison, not released back into our communities. If repeat criminals are illegally in this country, they must be deported after they serve their sentence – every time! The crimes committed by illegal immigrants are often times not isolated incidents. A July 2018 Government Accountability Office report noted that the 197,000 criminal illegal immigrants incarcerated in federal prisons during fiscal year 2011 through 2016 had been arrested about 1.4 million times and accused of approximately 2 million offenses, about 10 crimes each.
Two million crimes!!  Heart-crushing. But Ms. Szeliga is truly a leonine warrior on this issue.
Is your state, city or county already a 'Sanctuary' for illegal aliens?
See the interactive map at the Center for Immigration Studies which as of February 5th lists the following states along with more than a hundred (I didn't count them) local jurisdictions that have already declared themselves welcoming to those who are hiding from law enforcement.
California
Colorado
Connecticut
Illinois
Massachusetts
New Jersey
New Mexico
New York
Oregon
Vermont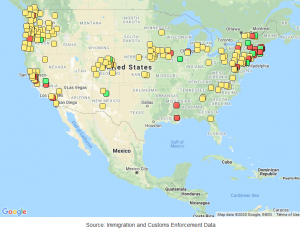 From time to time, I hear from readers looking to move and they ask me where would be a good location.  You might use this map, overlay it with a refugee resettlement map and see what you get.
LOL! Since I know where the refugees are going, I would look at the deep south, South Carolina or Wyoming as safe choices, at least for now!