***Update*** The plot thickens as Imran Awan, Debbie Wasserman-Schultz's IT guy is suing the Daily Caller.  Thanks to reader Ann for alerting me to the news.
I thought "complicated history" was a nice way of describing the Obama judge who recently ruled that Trump isn't moving fast enough to admit MORE Afghan and Iraqi Special Immigrant Visa holders to your towns and cities.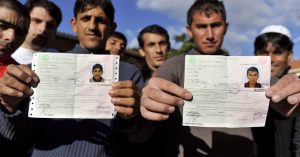 I posted that story 4 days ago at RRW and the post went viral. I don't know how or why, but it garnered nearly 10,000 hits at RRW since then.
Although I knew nothing about the judge, many of you did, and Judge Tanya Chutkan has a claim to fame.
She is the judge who presided over the case of the Pakistani brothers who had for years been doing IT work for influential Democrats on the Hill and were arrested on some funny business regarding mortgages.  However, many questioned, and still do question, whether they compromised the US in their role in Congress as information gatherers and keepers.
Here is what reader Deidra alerted me to regarding Judge Chutkan.
From a 2017 article at True Pundit:
The federal judge in the Awan case has President Barack Obama's back. His cohorts Eric Holder and Loretta Lynch are likely covered too. No worries in The Swamp.

The players: Judge Tanya Chutkan, Rep. Debbie Wasserman-Schultz, and Pakistani Imran Awan.

U.S. District Court Judge Tanya Chutkan, who is presiding over the Imran Awan and Hina Alvi fraud case, was appointed to the federal bench by Obama after she kicked thousands in campaign donations to his presidential campaign when he was a U.S. Senator in Illinois, records confirm.

Obama also appointed Chutkan's husband, Peter Krauthamer, a judge to the bench in the District of Columbia Superior Court in 2011.

Krauthamer's mother, and Chutkan's mother-in-law, also contributed campaign cash to Obama, records confirm.

And Chutkan's former law firm, where she worked until her appointment to the federal bench in 2014, currently represents Huma Abedin, the wife of disgraced former Congressman Anthony Weiner. The firm also is stacked with Democratic lawyers who worked for Hillary Clinton, John Podesta, and Barack Obama's White House, just to name a few D.C. insiders.

If Obama or his administration is implicated in the expanding Awan Congressional probe they likely have little to worry about.

These revelations damper rank-and-file FBI agents who are pressing to expand the case to encompass Awan's two brothers and press an indictment for selling intelligence gleaned and possibly stolen from Congressional IT network the Awams were charged with safeguarding.

"It's rigged from almost every angle," a frustrated FBI insider said.

[….]

FBI agents fear [US Attorney] Phillips — now backed by the federal case judge Chutkan — has cleverly rigged the Awan case to protect Obama, Lynch, Holder and Rep. Debbie Wasserman Schultz. This likely includes the dozens of Congressional Democrats the Awans served as IT specialists.

[….]

Chutkan, the federal judge on the Awan case, was born in Jamaica. She lived in Jamaica, the Bahamas, France and Spain before coming to the United States, federal law enforcement sources said.
Many more twists and turns, go here to learn more.
One more reason we must work to keep Trump in office for four more years—to give him time to appoint new judges!