There couldn't be a more appropriately titled or timely book than this one about Minnesota Rep. Ilhan Omar.
American Ingrate: Ilhan Omar and the Progressive-Islamist Takeover of the Democratic Party.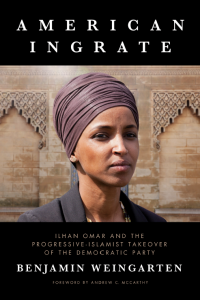 I couldn't decide which of my blogs is the more appropriate place to post this exciting news, but settled on 'Frauds and Crooks' although Omar is one of the more than 100,000 Somalis admitted to the US by past administrations including not just Democrat Obama, but by the Republican George W. Bush administration which admitted them by the tens of thousand as well.
Here is what author Ben Weingarten said about his book in an announcement yesterday (I've order my copy!):
…. I would be remiss if I didn't thank everyone who has helped make this book a reality, including my loving family, friends, the team at Bombardier/Post Hill Press, Andy McCarthy who kindly wrote the Foreword, Victor Davis Hanson, Dennis Prager, Newt Gingrich, Scott Johnson, Lee Smith, and Caroline Glick who kindly wrote blurbs for it, and many of you who played roles large and small in helping bring it to fruition.

American Ingrate is as serious and substantive as it is provocative and politically potent.

Author Weingarten. https://benweingarten.com/bio/

It has been made ever more relevant in the run-up to release as its thesis is being borne out in real time in Bernie Sanders' rise to the top of the Democratic presidential field–with Sanders having recently named Rep. Omar his campaign co-chair in the pivotal 2020 state of Minnesota–and mounting evidence of Omar's alleged marriage fraud and associated raft of crimes.

Among other things, this heavily researched work:

~Makes the definitive case that as President Trump has argued, Rep. Omar is the face of the Democratic Party, while delving deeply into her unexplored background, unchallenged beliefs, and under-appreciated effort in leading her party to advance a fundamentally subversive, intersectional- and identity politics-based agenda geared towards destroying our core institutions under the guise of "social justice;"

~Sets forth the argument that she not only personifies but leads the unholy progressive-Islamist alliance–held together by the glue of Jew-hatred as a proxy for hatred of Judeo-Christian Western civilization–that truly has triumphed over the Democratic establishment; and

~Builds the as yet ignored case for her collusion with corrupt and anti-American actors and regimes foreign and domestic–on top of credible allegations of criminality and corruption, including previously unreported details pointing to her fraudulence.
Can't wait for my copy to arrive!  Order at Amazon.
See my Rep. Ilhan Omar archives here at 'Frauds and Crooks' and at Refugee Resettlement Watch don't miss this post from 2016.