And while the likes of yours truly*** and other conservatives are suspended or banned at Twitter, a judge agreed with  Sullivan's defense attorney who said it was too much punishment if Sullivan was banned from using social media like Facebook and Twitter because as his defense attorney argued that such a prohibtion was "wildly excessive and insensitive to the role that Facebook and Twitter play in the lives of many young people."
It is how they reach their friends, he whined.
Here is Politico trying so hard to white wash Sullivan's Black Lives Matter instigator role at the US Capitol on January 6th.
"Let's burn this shit down!"
Judge refuses to ban Capitol riot suspect from Twitter and Facebook
A federal magistrate judge has turned down prosecutors' effort to block a man accused of participating in the Capitol riot from using Twitter and Facebook, but ordered him to end his involvement with a business he founded that the Justice Department says promotes and glorifies violent protests.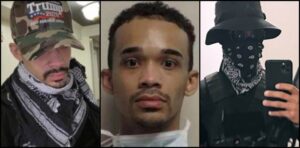 The defendant, John Sullivan of Utah, has maintained that he attends raucous demonstrations as a journalist, sharing videos through his Insurgence USA website and social media platforms. Sullivan's defense attorney even filed invoices with the court showing that CNN and NBC each paid Sullivan's firm $35,000 last month for rights to video he filmed of chaotic scenes outside and inside the Capitol, including the deadly shooting of protester Ashli Babbitt by a U.S. Capitol Police officer.

[….]

Sullivan's politics remain murky. He has described himself as an opponent of Trump and a backer of Black Lives Matter. However, BLM activists in Utah have disowned him, saying he seemed intent on provoking violence at protests.

[….]

However, prosecutors contend that Sullivan is not a mere bystander or chronicler of protests. Instead, they say, he actively encourages violence, telling viewers how to make Molotov cocktails and evade identification by police. He was arrested last month on charges stemming from the Jan. 6 riot, including interfering with police during a civil disorder. Sullivan was later hit with an additional charge: obstruction of Congress.

At a hearing on Tuesday afternoon on Sullivan's release conditions, Washington-based Magistrate Judge Robin Meriweather split the difference between prosecutors seeking to eliminate Sullivan's presence on the United States' most popular social media platforms and a defense lawyer who decried what he said was an assault on his client's constitutional rights.

"I am rejecting the broader prohibition on Twitter and Facebook and encrypted social media platforms," Meriweather said, also ordering that Sullivan be taken off of 24-hour location monitoring via GPS.
He is just hanging out at home chatting with his friends on Twitter and Facebook, etc.
However, the judge said Sullivan "is to no longer work for Insurgence USA," will have his internet use monitored by probation officials, and will be banned from using any social media platforms to incite riots, violent protests, armed conflict or violence. He's also under home detention.
For me the fundamental question is why had no one (Pelosi, McConnell) asked for National Guard troops to arrive before January 6th when supposedly the FBI knew in advance that violence was planned for the 6th.
I don't know which is more frightening: either the FBI didn't know in advance, or FBI warnings were ignored. 
*** Get this!  My Twitter account is suspended because I refused to give them more information about myself.
So, naturally, I figured since it is suspended and they have removed all of my followers, I would simply quit and delete my account.
Guess what!  I am not permitted to "deactivate" my account because I am suspended.