This will brighten your day!  And, maybe best to re-read and re-watch the videos at the Conservative Tree House (aka The Last Refuge) every day for the next week!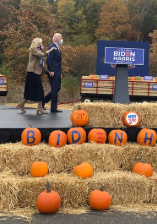 I don't know about you, but I have been using Twitter to smile and laugh almost daily for the last few weeks as grassroots activists post their videos of massive pro-Trump rallies, car, truck, motorcycle and boat parades, and I especially liked the Trump brigades surrounding Biden's pathetic pumpkin stage in Pennsylvania on Sunday.
Editors note on the picture of Biden arriving on that pumpkin stage:  I found a picture on Twitter, apparently taken from a distance by a Biden fan, and I cropped it and blew it up to reveal Biden being supported by Jill. Is she is using both hands to steady him as he walks to the podium? Astounding!
Have you heard anything about Biden planning to make no more public appearances now to election day?  Wasn't sure if that is a rumor.
A diverse and patriotic MAGA movement is overwhelming the mechanisms of narrative control; and they are doing it by flooding the zones with a combination of "old school" and "modern tech" workarounds.  It's quite honestly the most remarkable political dynamic since the organic Tea Party erupted in 2009.

[….]

"A right-wing offensive" is the 2020 narrative equivalent to Clinton's vast Russian conspiracy theory.  The truth is Big Tech is getting their ass kicked by the American electorate and they are freaking out about how visible, in-your-face, unapologetic and dramatic the MAGA activism has become.

[….]

Here's what is happening… really just an affirmation of what everyone is noticing and talking about…. and it is wonderful.

A combination of what I would call "old school" activism is taking place everywhere.  Car parades, boat parades, marches, rallies and massive swarms of American MAGA supporters are literally flooding the political space in a scale that makes it impossible to ignore.
Trump happy warriors even in Beverly Hills, California!
See many more videos of spontaneous rallies.
Then Sundance wraps with this,
The American people are all-in, right now when it matters most; the Monster Vote is also clearly evident.   Spontaneous acts of patriotism are now considered representative of the counter-culture; people of all colors, races, creeds and orientations are united under the Red, White and Blue MAGA banner; and all of this was initiated organically by an American President who just transparently loves this country.

MAGA bitches, this is just awesome.
Go to the Conservative Treehouse, see the videos and come back to it often to get your daily laugh!  See the comments too!
Don't miss the videos of the Trump fans who attended the pathetic pumpkin stage rally (uninvited).