HIAS does not want local citizens to have any say in which third world refugees are placed in which towns.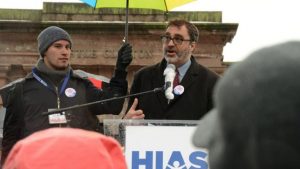 They like the system as it has been for decades with nine federal contractors working with the US State Department determining how much poverty (and diversity) your town can manage.
Because time is short for me to post here at 'Frauds and Crooks' today, please visit Refugee Resettlement Watch about HIAS's lawsuit against Trump's September Executive Order and about the fact that HIAS is still getting millions of taxpayer dollars while getting richer as it opposes Trump's immigration policy.
HIAS Sues Trump Again, Contractor Does Not Want Local Citizens to have a Say in Placement Decisions
HIAS is not alone, they are joined in the lawsuit by two other taxpayer funded 'religious charities'—Church World Service and Lutheran Immigration and Refugee Service.
These overtly political organizations would be severely curtailed in their anti-Trump agitation if they weren't receiving millions of your tax dollars!