Opinions vary!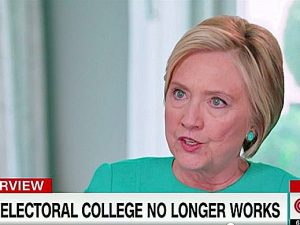 Of course Open Borders, Inc. is assuming that and at every corner of their movement they are driving the naturalization process and making it easy for the 'new Americans' to register to vote.
But, will the new voters turn out, and are they located in the right places? 
Those are just some of the questions raised in a very informative piece at a Middle Eastern news outlet (MENAFN) entitled:
Immigrant voters stand in Trump's re-election path
Of course it is self-evident that the primary drive to flood the US with immigrants is to ultimately get them voting because at this point in time, a large majority will vote for the Dems.
Republican optimists think they can persuade a growing number who came here legally to support the rule of law, after all the legal immigrants did follow the law.  However, that won't be nearly enough to counter what they fear is an anti-immigrant message from the President.
The Democrat Party message of free stuff is pretty persuasive as well!
But perhaps the most interesting nugget of information in here that I hadn't thought of (duh!), and explains the enormous hatred the Electoral College holds for Dems, is that most immigrants choose to live in states like New York and California that the Dems have already sown-up.
In other words, more immigrant voters in NY and CA won't change the Electoral map.
By encouraging more Democrat-voting immigrants to go to Texas, Georgia, Arizona and Florida (to name a few), they hope to get those states in line as well. Others to follow!
I guess that is why the US Refugee Program and its Leftwing resettlement agencies sought to bring the 'joys of diversity' to as many rural states and small towns as they could—so those refugees might someday be joined with other immigrants to change most of America.
Here is just some of the article you should read:
(MENAFN – Gulf Times) This is where a nation changes: a public school auditorium that moonlights as a veritable citizenship factory.

At the M O Campbell Educational Centre, where murals honouring the arts and sciences adorn the walls, US immigration officials routinely hold packed naturalisation ceremonies.

Immigrants approved for citizenship walk in, take the oath of allegiance, and walk out as Americans and as a small army of new voters.

'It will never, ever be easier to register than it is this morning, US district judge Keith P Ellison [NOT Minnesota Ellison—ed], who presided over a ceremony last month, told the 2,155 immigrants from more than 100 countries who had just taken their citizenship oaths.

'The record for registrations is 89% of those who are sworn in. … Let's see if we can break that record today.

Amish Soni, a 34-year-old radiologist from India holding a small American flag, was one of the 85% who registered to vote that morning, aided by a volunteer from the League of Women Voters. He 'definitely plans to vote in 2020, partly because he thinks the healthcare system should be fixed, but also: 'I'm not a big fan of Donald Trump. And he's far from the only one.

At ceremonies like these across the country, hundreds of thousands of immigrants are expected to receive their US citizenship and become eligible to vote before November 2020, gently reshaping and threatening the electoral path that President Donald Trump must thread to win re-election.

Over the last two decades, naturalised immigrants have grown into a force at the ballot box, with the US recently swearing in more than 700,000 foreign-born US citizens each year.

[….]

Surveys show that many of the new citizens are liberal-leaning, which is one of several demographic trends helping put some historically red states such as Texas, Arizona and Georgia closer to Democrats' reach.

[….]

Diego says they will come out in opposition to Trump: "A lot of folks are responding to the climate of fear and division and general intimidation against immigrant and refugee communities." You can be sure Diego and his pals are making sure that a climate of fear is sufficiently whipped-up!

According to data collected by the New Americans Campaign, a coalition of non-profits, almost a third of US immigrants hoping to naturalise this year were most interested in gaining the power to vote the 'top reason by far, said Melissa Rodgers, the director of programmes at the Immigrant Legal Resource Center, which runs the coalition.

[….]

Filing an application does not necessarily lead to naturalisation; the denial rate is usually about one in 10. Immigrant advocacy groups have complained that the Trump administration has allowed a backlog to pile up, putting some applicants at risk of missing the 2020 election.

Latino and Asian immigrants are particularly potent additions to the electorate, with turnout rates that are often five to eight percentage points higher than their natural-born counterparts, according to Census estimates.

[….]

At the presidential level, naturalised immigrants' voting power is largely diluted by the electoral college. New citizens most commonly settle in Democratic bastions such as California and New York, where their votes are not expected to affect the next presidential election.

Along with Texas, Florida is a key exception. The battleground state adds between 70,000 and 100,000 naturalised citizens each year, with more than 20,000 born in communist Cuba, a more conservative voter bloc that has helped Republicans maintain razor-thin majorities in the state.
There is much more here!
I am by no means an election strategist.  What do you think?
I do know this:  The take away message for at least this next Presidential election cycle should be—save the Electoral College—and you better VOTE!
Reminder!  Almost every day there is new news at Refugee Resettlement Watch. Check it out!