This is a story I missed last week.
You know the Left loves to tell their 'stories' to play on your emotions, well this one should play on ours and needs to be widely shared.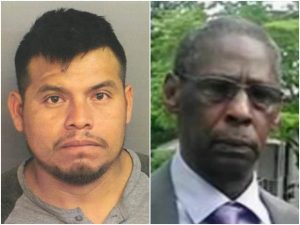 From Breitbart:
Illegal Alien Allegedly Killed Vietnam Veteran Day Before Veterans Day
An illegal alien living in Pennsylvania is accused of killing a Vietnam War Veteran the day before Veterans Day, according to law enforcement officials.

Nemias Perez Severiano, a 31-year-old illegal alien from Mexico, is accused of killing Samuel Jackson, a disabled 69-year-old who served as a Marine in the Vietnam War, the day before Veterans Day this year in Norristown, Pennsylvania, according to the Montgomery County District Attorney's Office.

On November 10, police said Severiano was driving drunk when he hit and killed Jackson before fleeing the scene of the accident. According to court records obtained by CBS Philly, the illegal alien had been drinking for five hours at a nearby bar before the fatal crash.

"While at the bar [Severiano] indicated he consumed seven to eight Modelo beers," the arrest records stated. "[Severiano] informed the detectives that when he left the bar, he was 'a little drunk.'"

Jackson's sister, Peggy Jackson, said her brother "loved the Marines" and was "so proud to have served his country."

"It was basically his day, it's what he fought for," Jayden Guidici, Jackson's grandson, told ABC 6 News of his grandfather's love of Veterans Day.

[….]

As Breitbart News reported, Marine Corp Veteran Richard Dunn donated his uniform to Jackson so he could be buried in uniform.
Send this story out to all of your social media lists!