First, I assume you are all following the news coming out of Arizona about the thorough audit of the disastrous November election.  The best coverage I see is daily (sometimes several times a day) at Gateway Pundit.
Fox News' behavior on election night and in the days and weeks following the debacle caused me to ditch them in favor of Newsmax and other news sources (I can't get OANN where I live unfortunately).  And, before I hear from readers, I get most of my news from reading a wide variety of online news outlets.
I have probably watched my once favorite media personality, Tucker Carlson, maybe twice since November.  The second time was the night before last when I just happened to see Carlson's segment on information coming out of Georgia about the likelihood of fraud there and I fumed—so where have you been Tucker?  (I'll put that segment at the end of this post if you missed it.).
And, then it occurred to me that perhaps sending Tucker out to report on the likelihood that there was massive fraud (in at least Georgia) allows Fox to try to save itself if a bomb drops and the Arizona certification in favor of Biden turns out to be a big lie with Fox clearly having helped Biden secure victory.
Here is the news from Newsmax that prompted me to think that Fox bigwigs are beginning to cover their asses.
Author Michael Wolfe seems to be a real creep and I have no intention of buying his book, but this sounds plausible to me….
Author: Fox News Gleefully Brought Down Trump
Fox News took glee in shockingly calling Arizona for Joe Biden before any major network, putting an end to Donald Trump's reelection chances, author Michael Wolff claims in his new book "Landslide."

Once the favorite news outlet of conservative Americans, Fox turned its back on its right-leaning audience last November when it decided to call Arizona shortly after polls closed — with all other networks, including Newsmax, standing down because the race was "too close to call."

Trump's advisers say Fox's Arizona decision was done to create a sense of inevitability of Joe Biden's win, limiting Trump's ability to justifiably contest other close states like Pennsylvania.

In his book, Wolff says Rupert Murdoch, the chairman of Fox News, personally made the Arizona decision and set off a behind-the-scenes firestorm.

According to Wolff, Murdoch's son Lachlan, the CEO of Fox Corp., was informed of the Arizona bombshell and telephoned his father to ask if Fox should report that Trump had lost the Grand Canyon State.

"His father, with signature grunt, assented, adding, 'F*** him,'" Wolff wrote.

Next, Wolff reports in his book, Fox News anchor Bill Hemmer called top Trump strategist Jason Miller to inform him the network was kicking Trump to the curb and going ahead with the Arizona call.

Miller rose from his seat, shouting "What the f***?" Wolff writes.

But despite pressure from the Trump administration to retract the Arizona call, Fox refused.

Fox News has called Wolff's claims of Murdoch's involvement "wildly inaccurate" and "completely false."

Wolff also asserts that Murdoch hated Trump, despite Fox's support of him.

"Trump just made his skin crawl. But then, partly because of Fox News, Trump became the president of the United States, and Murdoch was forced to essentially suck up to him," Wolff told Der Spiegel. "That was incredibly painful to Murdoch."
More insider intrigue here, then this: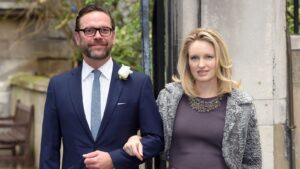 James Murdoch has told members of the press that he and his Democrat siblings will someday control Fox News and plan on re-making it into establishment media.
I am done with Fox News.
Of course watch whatever you wish, but consider whether you want to enrich the Murdoch's any further.
Here is Gateway Pundit praising Tucker for at least touching on the subject of the massive election fraud everyone with a brain knows took place.
Sorry if I am a cynic on the subject of Tucker, but I think he is their tool to begin to get ready for what I think will ultimately happen—that they will have to admit that they were wrong when they called Arizona for dementia Joe.
By sending Carlson out now on the subject, they will be able to say to faithful viewers that they did in fact report on the massive 2020 election fraud (more than six months too late!).
Here is Tucker's report: