A couple of friends sent me this news about a rally on Saturday in Washington, DC to protest the incarceration of many arrested on January 6th, some of whom are in solitary confinement and many without even having charges filed against them.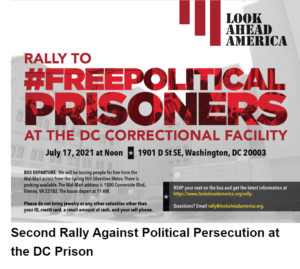 It is such a relief to see that some patriots are taking action to protest this shameful act of political persecution.
I have no time to go into the details because I want to get over to RRW before I run out of steam today.  (Been out early slaving in the north 40, so to speak.)
Learn more about it here and see that there are satellite rallies being held elsewhere in the country as well.  Note that the Arizona rally is tomorrow.
Watch organizer Matt Braynard on with Steve Bannon last week: