I have dozens and dozens of posts at Refugee Resettlement Watch about the transformation of Lewiston, Maine that has occurred over a few decades as Somali refugees have 'found their way' to the Maine city.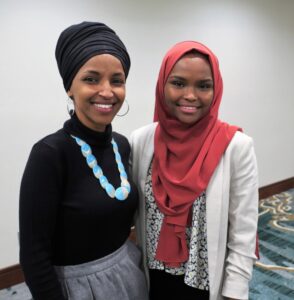 I also have a couple of posts there that mention Safiya Khalid who won a seat on the Lewiston city council last fall to cheers from the Council on American Islamic Relations.
But, I missed the back story on how the twenty-something Somali won that seat as the darling of the local Democrat party, that is until I had an e-mail from a resident of the city who told me this horrifying tale.
This could happen to your town too!
Here is a bit of the e-mail to me from Mainer Maura Murphy:
As a resident of Lewiston, Maine who lived abroad for almost 30 years then came back to my hometown, I was horrified to see the decline and degradation. Part of it was post-industrial malaise and consequent multi-generational poverty for sure; part of it was the thriving drug trade started by dealers from other states who found central Maine's drug capital to be an easy place to do what they could no longer get away with to the same degree in NY, MA, PA, D.C., etc.; and part of it was the abysmal way the addition of thousands of refugees and asylum seekers has been handled.

After returning to Lewiston several years ago, I was shocked to hear firsthand account after firsthand account of violence, theft, destruction of property, etc. committed by roving gangs of immigrant boys, gang bullying episodes–swept under the carpet by administrations–in all pubic schools to the point that parents have taken their kids out of schools, and much more.

I would not have believed it had I not heard directly from people who had experienced these episodes, including teacher friends who *quit* due to the double standard of permissiveness for immigrant students and other friends who have had rocks or chunks of ice thrown at their cars when driving through downtown.

See my most recent post on the killing of Donald Giusti. African Emmanuel Nkurunziza charged in his death. https://fraudscrookscriminals.com/2020/03/04/african-teen-charged-in-death-of-maine-man-wants-special-favors/

Donald Guisti's murder by a gang of refugee/asylum seeker youth–and the unbelievable way the investigation was mishandled–was not only the culmination of simmering violence committed by immigrants, but opened the way for a new wave of immigrant entitlement and bitter resentment of the community they supposedly came to to escape the brutality of their home countries.

You may have read about a Somali immigrant, Safiya Khalid, running for city council in Lewiston? While numerous media reports celebrated her victory, they declined to mention that her campaign had ruthlessly bullied her opponent under cover of darkness at his own home, in an effort to intimidate him into withdrawing from the race.

Even though there are *audio tapes* of the harassment, Khalid's campaign *got away with it*, thanks to extensive media manipulation and a smear campaign to try to transform outcry against the bullying into an act of "racism".

The bullies, and Safiya herself, were and still are the top officers of the Lewiston Democratic Party, as well as local elected officials. When I found out about this bullying, my first action was to ask the victim–who was then in the hospital–if it was true. He told me it was, and gave me the recordings. When I raised the alarm to my fellow local Democrats and Khalid herself–giving them the benefit of the doubt that they didn't know–they personally attacked *me* for telling them. This is when I knew there was a wider campaign to be sure Khalid was elected at any cost, and a friend and I did our own investigation.

I wrote the article below initially to let people know that Walter "Ed" Hill was indeed running for Ward One Representative, and to alert them to what had happened.
From Medium.com:
"I Was Afraid They Were Going to Break Down My Door." (Walter Hill)
On the evening of August 28th, 2019, longtime community volunteer and public servant Walter Hill made his way back to his suburban Lewiston home after having had hip surgery. A few blocks away from his house, he noted the familiar figures of Lewiston Democratic Party Chair, Kiernan Majerus-Collins, and his opponent in the upcoming election for Ward One City Council, Safiya Khalid, who served as party Vice Chair. Because Hill's close-knit neighborhood was isolated — not a place where people usually spent time unless they lived there — their frequent presence canvassing there had been noticeable for some time.

Members of the Lewiston Democratic Party: Alicia Rea, Christopher Hodgkins, Owen Cardwell-Copenhefer, Jared Golden, Kiernan Majerus-Collins, Safiya Khalid and Jim Lysen

As much as Hill was looking forward to campaigning himself, he was completely spent from his medical procedure, and just wanted to get back to the place he had called home for more than 25 years. "I really wanted to get out there and let people know I was running and have conversations about Lewiston, but I literally couldn't move," said Hill. "The timing just couldn't have been worse."

As a new wave of pain swept over Hill upon arrival at home, he took his medication, settled in as comfortably as possible on the couch and fell asleep. About 20 minutes after returning, he was jolted out of a deep sleep by the sound of pounding at his door. It got louder. He realized there was more than one person on his property. The banging and kicking got louder, and was coming from multiple directions. Both doorbells were ringing. Under cover of darkness, Hill's house had been surrounded and was being relentlessly pummeled.

From his position on the couch and in a daze, Hill recognized the voices of two people, both officials in the Democratic Party holding multiple local and county leadership positions, Kiernan Majerus-Collins and Owen Cardwell-Copenhefer.
Go read it all!  See what happens next and consider that this is happening in America!
Note to PayPal donors!  I want to thank all of you who send me donations for my work via PayPal. I very much appreciate your thoughtfulness. However, PayPal is making changes to their terms of service and I've decided to opt-out beginning on March 10, 2020.