Because I know you need a little diversion from the virus crisis, I figured you would get a little chuckle about the latest in the marital soap opera that seems to be Rep. Ilhan Omar's way of life.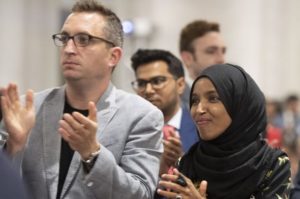 [Readers:  Every time I write about Omar I struggle with the decision to post about her at Refugee Resettlement Watch since she is one of the more than a hundred thousand of her countrymen that we have admitted to the US over the last several decades, or should I post here at 'Frauds and Crooks.'  'Frauds and Crooks' it is!]
The most thorough coverage of the life and times of Omar is at the UK Daily Mail which seems to have a photographer on her tail much of the time!
Congresswoman Ilhan Omar reveals she is MARRIED to her chief fundraiser lover after they were spotted together wearing wedding rings
Leftist congresswoman Ilhan Omar has married her fundraising chief, she has announced.

Her wedding to Tim Mynett happened earlier this week, DailyMail.com understands.

Mynett now sporting beard. Did he convert to Islam?

She announced the wedding in an Instagram post, which was accompanied by the couple in a romantic pose. The couple, both of whom divorced their previous spouses late last year, tied the knot at an undisclosed location.
From partners in politics to life partners. So blessed,' the Minnesota congresswoman wrote on her Instagram account under the black and white photograph.

The couple were wearing the same rings that DailyMail.com pictured them wearing in Washington, D.C. last week.

Both Omar, 37 and Mynett — whose company received more than $500,000 last year from her campaign — initially denied they were having an affair.

But sources in the Somali community in Minneapolis say she was forced into announcing the nuptials because of articles on DailyMail.com.
Go here to see the long story with lots of pics at the Daily Mail!
See my Ilhan Omar archive here at 'Frauds and Crooks.'