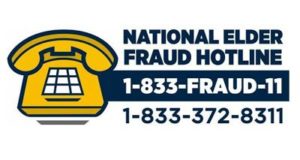 AG Bill Barr and FBI Director Christopher Wray announced this week that an unprecedented number of cases of fraud against senior Americans have been charged or prosecuted and announced a hotline where you can report suspected fraud and help them catch more of the crooks, often foreign crooks, stealing from older Americans.
From CBS News  (good for them because I have seen very little elsewhere about this story from Tuesday):
Barr announces more than 400 charged for defrauding seniors over past year
Washington — More than 400 people have been charged with defrauding seniors out of more than $1 billion over the past year, the Justice Department revealed Tuesday. Attorney General William Barr announced the charges in Tampa on Tuesday at the Sun City Center Community Hall for seniors.

Barr explained why this issue has personal meaning for him. "I myself was used as a lure in a scam," the attorney general told retirees. Before he became the nation's 85th attorney general, the 1991 official photograph of Barr from his first stint in in the job in George H.W. Bush's administration was used by scammers offering phony federal grants in exchange for money. "It was really heart-wrenching. People called in desperate hope that this was real," Barr explained. "That crystalized the issue for me, and when I got to the department I wanted to make sure that this was one of our highest priorities to go after this."

Fraud ring busted in 2019. https://qz.com/africa/1693540/fbi-bust-of-nigerian-email-fraud-shows-evolving-scam-tactics/

[….]

Barr has made elder fraud one of his top priorities as attorney general, and Tuesday's announcement nearly doubles last year's prosecutions.

Every U.S. attorney's office across the country participated in either prosecuting or conducting proactive community outreach as part of the department's sweep.

[….]

Scams targeting the elderly are usually foreign-based, like the "Nigerian prince" scheme or robocalls involving the impersonation of a U.S. government official who demands money from targets.

"The charges announced today demonstrate the great success of the Transnational Elder Fraud Strike Force to identify and stop those who are targeting our senior communities from overseas," said FBI Director Christopher Wray in a statement. "We're committed to continuing our efforts to keep our elderly citizens safe, whether they're being targeted door-to-door, over the phone, or online."
And, see the FBI Press Release on the announcement which includes a link to an interactive US map so you can see where some of the 400 cases are being prosecuted.
As I have said on innumerable occasions the President should be highlighting this fraud-busting work of his Justice Department, like this Transnational Elder Fraud Strike Force , at every one of his rallies.
Note to PayPal donors!  I want to thank all of you who send me donations for my work via PayPal. I very much appreciate your thoughtfulness. However, PayPal is making changes to their terms of service and I've decided to opt-out beginning on March 10, 2020.