The mean right-wingers are pointing out that it's a little rich for Patrisse Cullors to purchase millions of dollars worth of real estate while she bloviates about HER struggling black people.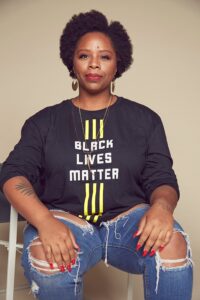 I thought this story had gone away a week ago when Candace Owens called her out, called her a typical Marxist enriching herself while claiming to work for the little people.
Owens went one step further and asked if she found white people so racist why did she buy a $1.4 million dollar home in a ritzy white community in California?
Why doesn't she want to live with black people? Owens asked.
By the way, in case you're wondering why no post here since Friday, it is because I had to hop over to Refugee Resettlement Watch to report on another humorous situation, this time, the mess the flip-flopping Biden/Harris administration is making of the Refugee Program—all immigration in fact.
Oh joy! They have succeeded in royally pissing-off their NO Borders base.
You may have seen the news on cable TV yesterday when Biden finally admitted there was a crisis at the border and that they couldn't do two things at once.  Be afraid, be very afraid.
Here is what I wrote over the weekend.  And, I will have more today.
Biden/Harris Make a Hash of Refugee Plan; Infuriate Their Friends
Back to BLM and Marxist Patrisse Cullors!
We have to stay focused on white supremacy she says! 
From The Independent: 
Black Lives Matter founder breaks down in interview over right-wing attacks on her new home
Black Lives Matter (BLM) co-founder Patrisse Cullors held back tears while discussing criticism she faced last week over her housing portfolio, worth $3m (£2.17m).

Her $1.4 million digs near Los Angeles—helping black people, aka her family, she says.

Ms Cullors, 37, who created the hashtag #BlackLivesMatter in 2013 and later co-founded the Black Lives Matter Network, was criticised last week after the New York Post revealed that she had spent $1.4m (£1.017m) on a Los Angeles property, her third residence in the city and fourth overall.

She has bought two other homes in the Los Angeles area over the last few years, which sit in her portfolio alongside a 3.2-acre property in Georgia that she purchased for $415,000 (£301,950).
She says attacks on her are racist, but WTH Whitlock is black and so is Candace.
Questions were raised about how the director of the Black Lives Matter Global Network Foundation had acquired the funds to pay for the properties, with Black sports journalist Jason Whitlock accusing her and other BLM founders of "making millions of dollars off the backs of these dead Black men who they wouldn't spit on if they were on fire and alive".

However, during an interview with Marc Lamont Hill for Black News Tonight on Thursday, Ms Cullors described the scrutiny over her homes as a "racist and sexist" attack by the "right-wing media".

Ms Cullors also rejected claims that the purchases go against her self-described ideology as a "trained Marxist", explaining that she bought the homes for her family, and defines her wealth "as my family's money, as well".

She added: "I think that is critique that is wanting. The way that I live my life is a direct support to Black people, including my Black family members, first and foremost.

[….]

"We have to stay focused on white supremacy,' she added as she urged people to 'see through the right-wing lies,'" Ms Cullors added.
What lies?
Cullors, with tears trickling, claims she has had to hire security because of the verbal attacks.
Now watch Candace Owens on Tucker last week.  She is so good!