Who knew taking care of the homeless could be so lucrative!
Longtime readers know that one of the reasons I keep doing what I do, writing blog posts like this as my charity work, is that I want taxpayers to understand that gobs of their hard-earned money (tax dollars!) is flowing to non-profit groups masquerading as charities.
The non-profit gets to pretend it is doing good work (sometimes under a cloak of religious zeal) and all the while those leading the fake charities are reaping rewards beyond your wildest imagination.
Refugee Resettlement Watch is loaded with information on this topic, but thanks to reader Brad for sending me this news from the New York Post about the NYC homelessness 'industry.'
How NYC's homeless 'charities' cash in — ruthlessly
It was a good hour into his State of the City speech Thursday before Mayor Bill de Blasio addressed homelessness — though he didn't say much about it. "It's what we have to do," he averred. "We have to end homelessness as we know it."

A little public relations pic! Mayor Bill de Blasio inspects accommodations with homelessness industry CEO Raul Russi.

https://prospect.org/infrastructure/housing/business-of-homelessness-nyc-biggest-shelter-contractor/

You'd think this was de Blasio's inaugural statement on the topic, as though he hasn't been mayor for six years, presiding over record numbers of homeless people living in shelters, on the streets and in the subways. But de Blasio does in fact have a clear track record on homelessness; it's just so dismal — so tainted by waste and scandal — that it's no surprise he doesn't want to dwell on it.

Spending has skyrocketed across the board since de Blasio took over City Hall, but no government expenditures have soared as fast as homeless services, which more than doubled since 2014, from $1 billion to $2.1 billion.

[….]

Turns out that an increasing amount of the city's homeless budget goes to service providers — the groups that run shelters and intake centers, conduct outreach and offer specialized treatment to people on the street. Yet given the enormous demand for shelter, numerous regulations on services and difficulties dealing with the city, it's hard to find top-quality, scrupulously ethical providers.

At the same time, with more than a billion dollars a year flowing to this sector, the city can't seem to ensure that standards are met, while well-positioned insiders — call them nonprofiteers — soak up public money.

Indeed, the system has been working great, if you are on the receiving end of the money stream. If you are a homeless or needy person, not so much.
After some horror stories about Children's Community Services, opinion writer Seth Barron continued:
CCS isn't the only bad actor in the city's social-service industrial complex. Bronx-based powerhouse Acacia Networks — which has taken in close to a billion dollars in city funding since 2010 — garnered attention after a grisly murder in one of its Upper West Side shelters.

Scandal rocked Maria del Carmen Arroyo's term in elected office. Here with Michael Bloomberg (right) who promotes the idea of immigrants adding to the US economy. I guess he means people like Ms. Arroyo!

This came on the heels of a revelation that Acacia executives had unreported ties to the security firm it hired to monitor its facilities and ensure the safety of the residents; insiders may also have proprietary ties to other vendors, too. Acacia "cluster sites," which also house homeless families, have hundreds of outstanding violations.

Yet the organization is politically connected — former Bronx Council Member Maria del Carmen Arroyo left her elected post for a cool quarter-million salary as an Acacia VP, though that's peanuts compared to the $800,000 stipend pulled down by CEO Raul Russi.
Only in America!
Now check out the salaries of mostly 'new Americans' doing well by doing good for the homeless in NYC.  From The American Prospect: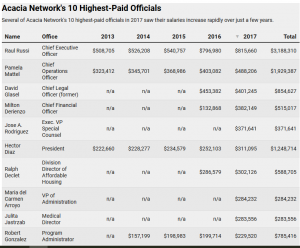 This post is filed in my 'charity fraud' category.