This is a doozy of a 'diversity is beautiful' alert involving a 'new American.'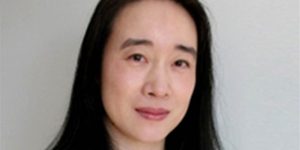 Stories like this rarely show up in the national news, but this story from the elite Mt. Holyoke College is sure getting a lot of attention in Massachusetts.
Yikes!
The former exchange student from Japan who "decided to stay" in the US and ultimately became an art professor was supposedly in love with a fellow female professor (60) who had never had any idea, or had never encouraged, any romantic relationship.
From KIRO-7  (Hat tip: Cathy):
Mount Holyoke professor accused of attacking colleague over unrequited love
LEVERETT, Mass. — A Mount Holyoke art professor is accused of going to a fellow professor's home over Christmas break and attacking the woman with a rock, a fireplace poker and garden shears out of unrequited love, according to court documents.

Rie Hachiyanagi, 48, of South Hadley, is charged with armed assault to murder a person older than 60, three counts of assault and battery with a dangerous weapon, one count of mayhem and one count of armed assault in a dwelling. According to Northwestern District Attorney David E. Sullivan's office, Hachiyanagi was arraigned on the charges Friday.

The victim, whose name has been redacted from police reports to protect her identity, is expected to survive, but she suffered severe injuries, Sullivan said in a news release.

The woman is not a member of the art faculty and it was not clear how well she and Hachiyanagi know one another, though the victim told investigators she'd known Hachiyanagi since August 2005.

The victim told state troopers she and Hachiyanagi have never been romantically involved and that Hachiyanagi was in a long-term relationship with a man, according to court documents.

Both professors were on winter break when the attack took place, according to a spokeswoman for Mount Holyoke, a women's college about 12 miles north of Springfield in South Hadley. Christian Feuerstein told the Boston Globe that Hachiyanagi has been placed on administrative leave.

Mount Holyoke President Sonya Stephens spoke with students/faculty and didn't name either professor. From the colleges website:  "Mount Holyoke sustains an increasingly diverse, global, and inclusive community of students, faculty, and staff in an environment of mutual respect in which all thrive and contribute to the flourishing of others."

"This individual … is not permitted on our campus pending further review of the incident," Feuerstein said in a statement. "We will cooperate fully with law enforcement agencies in support of their ongoing investigations."

Mount Holyoke President Sonya Stephens also addressed the incident with students and faculty, without divulging either professor's name, Friday, the same day Hachiyanagi was arraigned.

[…..]

The newspaper reported that Hachiyanagi, a native of Japan, has been a member of the school's faculty since 2004. A professor in art, art history and Asian studies over the years, she is currently chair of the college's Art Studio, or art department.

A criminal complaint filed by Massachusetts State Trooper Geraldine Bresnahan indicates that police were called to the victim's home in Leverett, located about 16 miles north of campus, just after midnight Christmas Eve. Hachiyanagi was the person who called 911.

The responding officers arrived to find both Hachiyanagi and the victim lying on the floor of the home's foyer. Though Hachiyanagi was uninjured, the other woman was "barely breathing, semi-conscious and with a head injury," Bresnahan's statement reads.

Hachiyanagi told the officers she had arrived for previously agreed upon plans with the victim to find her beaten and lying in a pool of blood. The officers searched the house, multiple outbuildings and the property for an assailant, with no results, the complaint says.

At that point, the victim, who was able to speak, told the troopers she had lost her glasses in the attack and did not know the gender or anything else about the person who had attacked her.

Her statements would change drastically when she was at the hospital — and away from Hachiyanagi, according to court documents.
Find out what happened next!  It is an incredible tale!  Go here, and you can see the arrest report and criminal complaint as well.
What I want to know is this:  Do foreign exchange students come here and decide to stay for decades?
Hachiyanagi is a renowned artist known for incorporating handmade paper in her work, according to Mount Holyoke. A 2017 blurb on the college's website and a 2012 article in the Globe both reported she first came to the United States in 1988 as a high school exchange student.

She decided to become an artist after having to use sketching to communicate in the Kansas community in which she was placed. According to the 2012 Globe story, she was also asked to paint a homecoming mural at the high school.

After deciding on her 18th birthday to study art, she never returned to live in Japan, the Globe reported.
Looks like Hachiyanagi is going to be one more foreign national (new American!) we will be paying for for years to come—prisons aren't cheap!