Editor:  As is so often the case, I've been busy at Refugee Resettlement Watch as Republican governors are caving to the Open Borders Left and asking the President for MORE refugees this year.  See RRW from time to time if you aren't already.
One of my favorite scams earlier at RRW, and now at 'Frauds and Crooks,' is SNAP scam!  That is when small stores and gas stations (most often owned by 'new Americans') traffic in food stamps.  I've noticed fewer of them lately. I don't know if that is because the most egregious cases have already been busted or whether the feds have slowed their investigations.
However, this isn't about trafficking fraud, but about the couple collecting food stamp benefits while owning several gas stations.  There may also be some Medicaid fraud mixed in, but that isn't fully explained.
I hope the feds investigated their gas stations to ascertain if they also might be trafficking in food stamps!
BTW, I've traveled often through this part of South Jersey and I can say there are many, many foreign-owned and operated convenience stores and gas stations.  Why is that?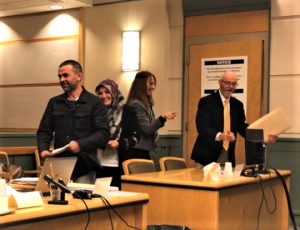 From the Daily Journal:
Vineland couple in food stamp case say they don't have to pay back money
BRIDGETON – A Vineland couple charged with taking thousands of dollars in an alleged food stamp scam are rejecting a plea deal, claiming a recent bankruptcy means they don't have to pay back the money.

The couple, Mustafa Ozturk, 35, and Rahime Ozturk, 38, fraudulently received $26,128 in food stamps over several years while concealing that they owned gas stations in two states from the Cumberland County Division of Social Services, court records show.

They both appeared in Cumberland County Superior Court on Monday.
The couple, who have separate attorneys, were arraigned in November on a 16-count indictment alleging theft, conspiracy, and falsifying records.

At Monday's hearing before Judge Robert Malestein, county Assistant Prosecutor Shari-Ann Sasu said the state has offered the couple plea deals that would recommend probation instead of prison.

However, she said, the defendants would be required to pay back the county and the Ozturks are refusing.
Send them to jail then!
The Ozturks filed in federal Bankruptcy Court in October 2018 for Chapter 13 protection. The Division of Social Services already had completed its investigation by that time.

The division contacted the Prosecutor's Office in February 2018 to report suspected Medicaid fraud, according to court records.

[….]

"I believe Mr. Ozturk's of the position that, if he's in bankruptcy, he shouldn't have to pay anything back," Sasu said. "So, the sticking point really is the money and restitution. I'm thinking a restitution hearing is coming at some point."
Sigh…. more of the 'new American' entrepreneurs we are being told benefit our economy.