Lucky for the 11-year-old, her Dad was home and quickly chased the intruder away from their patio door.
Steven M. Hasugulgum, 21, was arrested a short time later.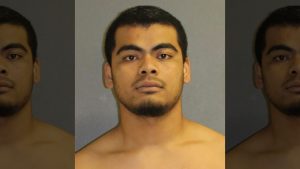 Of course the big question for me and others of my readers is what the heck was a creepy man from Micronesia doing wandering around Daytona Beach?
We don't take refugees from Micronesia, well except for those rejected asylum seekers who had been placed in detention by Australia on the island of Nauru.  Surely he couldn't have been one of those we foolishly took to America as refugees when Australia didn't want them. Could he?
We will likely never know unless some enterprising local reporter can pull his immigration status out of the local police.
There are many articles, mostly in Florida media, about the Christmas Eve attempted kidnapping.  Thanks to reader Janet for bringing it to my attention.
Here is Fox News:
Man chased from Florida home after grabbing girl, 11, in Christmas Eve break-in attempt
A man was arrested after forcing his way into a Florida home on Christmas Eve, nearly snatching an 11-year-old girl before he was chased off by her father, authorities said.

Steven M. Hasugulgum, 21, was standing outside an Ormond Beach-area home around 6 p.m. Tuesday when the girl opened a sliding door and walked outside, the Volusia Sheriff's Office said. Hasugulgum advanced, putting his fingers to his lips and telling her to "shh" as he forced her back inside.

The family's security camera caught the intrusion.

Hasugulgum followed her and grabbed her hand, trying to pull her toward him, but the girl's father, Derek Kloepfer, was able to chase the intruder away, deputies said.

"If I would have grabbed him, I'm sure there would have been some consequences," Kloepfer told FOX35 Orlando.
See the Fox35 video here.
The incident was caught on home surveillance video, and deputies immediately began tracking the suspect.

But just 40 minutes after fleeing, Hasugulgum tried to break into another home in the area, deputies said.

A woman told authorities he tried to turn the knob on her front door, which was locked. She said she opened the door and saw Hasugulgum "acting erratic and holding a hammer." He then tried to break into her SUV but was scared off after the woman hit the vehicle's panic alarm, according to the sheriff's office.

Deputies eventually arrested the 21-year-old when he reappeared near the first house less than an hour later.

Hasugulgum lives in Daytona Beach, but is a citizen of the Federated States of Micronesia, a country comprising more than 600 islands in the western Pacific Ocean, the sheriff's office said.
If any of you learn more about this man from Micronesia and how he came to be in America in the first place, please let me know!