The national media might be hiding when it comes to the serial killer case evolving in Texas, but the Dallas Morning News isn't!
On Monday another victim was revealed by a reporter who is not letting the horrific story be swept under the rug.
Here is what investigative reporter Charles Scudder wrote:
Another family claims serial murder suspect Billy Chemirmir killed their loved one, the 20th in North Texas
Another family fears their mother was killed by Billy Chemirmir, the serial murder suspect who is accused of smothering older women before stealing jewelry and other items in Dallas and Collin counties.

Imagine the horror if this was your mother or beloved grandmother killed allegedly for a few rings.

Diane Delahunty, 79, died Dec. 3, 2017, at Preston Place Senior Living Apartments in Plano. At the time, though three rings were missing from her fingers, police told her family she had died of natural causes.

But the medical examiner changed her cause of death to "undetermined" in July, and her daughter, Lori Delahunty, said Monday police have told her Chemirmir killed her mother.

Her death is the 20th that has been linked publicly to Chemirmir. Two other women survived attacks in Frisco and Plano.

Chemirmir has been indicted on 12 counts of capital murder in Dallas and Collin counties, and two counts of attempted capital murder. Including Delahunty, eight more North Texas families have said police believe Chemirmir killed their loved ones.
There is much much more in this article (not behind a paywall), but I want you all to go read it and thus let the Dallas Morning News know that there are hundreds, hopefully thousands, of people all across the country following the case.
The article contains a great interactive timeline.  This is a screenshot of one date on the line.  You need to go to the article for the active version.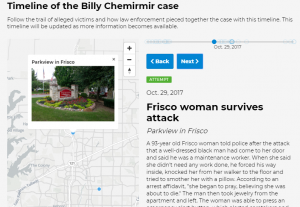 And, don't miss this!  Station WFAA says the Kenyan Killer (of course they don't call him that, I do) story is one of their top stories of the year: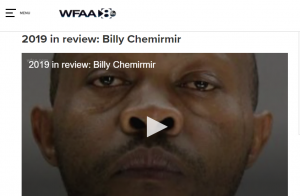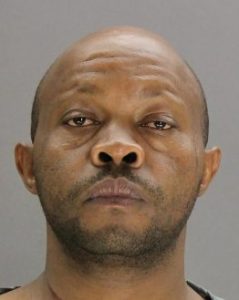 Why is the case being kept so hush-hush?
I think it is because the police and medical examiners may have really screwed-up by missing signs in early cases that might have saved many vulnerable seniors from a horrible death at the hands of a man who should not have been in the country in the first place.
See my previous post on the case, here.  In it I have linked all of my many posts on the case since it was made public in the spring.
Please help spread this story far and wide.
And, please keep a close eye on your loved ones that you think are safe in assisted living or nursing homes.