A federal appeals court affirmed a lower court decision earlier this week that seeks to send a message to medical practitioners who are clearly seeking financial gain at the expense of their patients' health.
The original court ruling against Dr.Aria Sabit was in 2017 (before I began writing 'Frauds and Crooks' to highlight cases like this where 'new Americans,' supposedly here to follow the American dream ripped us off, or in some cases killed us). Hey, Michael Bloomberg, so much for immigrant entrepreneurs!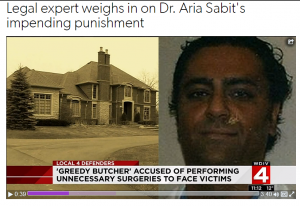 From the Detroit Free Press:
A Birmingham neurosurgeon's federal appeal failed, leaving him to serve nearly 20 years in prison because of his role in a $2.8 million insurance fraud scheme involving unnecessary spinal surgeries.

Aria Sabit also must deal with a lifetime of supervision and pay nearly $2 million in restitution because of the upheld sentence.

A three-judge U.S. Court of Appeals affirmed the 2017 sentence on Monday. Dec. 16.

"After recounting the facts underlying Sabit's conviction, the district court discussed the … factors and then handed down the sentence," the opinion read. "That shows the district court took a holistic approach to justifying the sentence.

"And that holistic approach didn't lack an adequate explanation: the district court spoke at length about Sabit's 'horrific criminal acts upon vulnerable and defenseless human beings' and then explained why the sentence was necessary (1) to protect the public and (2) to deter other criminal conduct."

The 11-page opinion concludes by saying the lower district court did not commit "reversible" error during Sabit's criminal proceedings or when imposing his sentence.

"Thus, we affirm," the opinion concluded.

Prior to his guilty plea and sentencing, Sabit owned and operated the Michigan Brain and Spine Physicians Group with several metro Detroit locations.

Sabit admitted to convincing more than a dozen patients to undergo spinal fusion surgeries that he never performed, causing serious bodily harm in some cases.

"He told patients they needed spinal surgery," the just-released opinion detailed. "Sabit then operated on the patients and told them (falsely) that he had inserted the agreed-upon medical device.

"Sabit also falsified his operative reports to make the patients think he had put the spinal devices in place."
Go here for more on the sickening case.
The message to you, dear readers, please, please carefully check out your doctors.  We have American bad docs, but honestly based on cases I've been reading about (so many in Michigan!) a lot of foreign-born docs are not here to help you get well.
Endnote: I encourage those of you interested in the UN/US Refugee Admissions Program to go over to Refugee Resettlement Watch every few days, because a lot is going on following the President's reform initiative launched in September.