As much as we might hate it, they are pushing us to it!
Surely you are following the front page news about how big woke corporations are increasingly backing a Socialist political agenda.
You would have to be living under a rock to not know what Major League Baseball is doing to hurt the economy of Atlanta, Georgia with Coca Cola and Delta and United Airlines in on the bullying.
They are still after Mike Lindell
And, yesterday I saw news that they are continuing to go after Mike Lindell, the My Pillow Guy, calling him an "insurrectionist" because he believes there was massive voter fraud in the 2020 presidential election (and there was!).
(See my previous posts tagged Mike Lindell and efforts by the Democrat Socialists to destroy his business.)
From Business Insider:
More than 100,000 people sign a petition urging Walmart, Amazon, and other retailers to pull MyPillow's products
They likely found 100,000 fake people like they found hundreds of thousands of fake voters!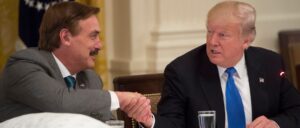 A petition urging retailers including Walmart and Amazon to stop selling products from MyPillow, whose CEO, Mike Lindell, keeps pushing voter-fraud conspiracy theories, has hit 100,000 signatures.

Lindell told Insider on Thursday that at least 22 retailers had cut ties with his pillow company since January, including Sam's Club, Kohl's, and Bed Bath & Beyond— but MyPillow's products are still selling on the websites of some retailers, including Walmart and Amazon.

The petition urges retailers to stop selling MyPillow's products. Its description says: "We will not support funding insurrectionists!"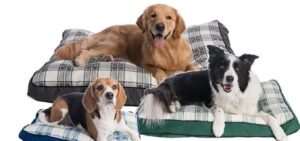 If you are a fan of Gateway Pundit as I am, see that you can use a special code to get a great break on your next order at My Pillow.
I can vouch for those great dog beds as our big dog had previously destroyed his beds (plural) until we purchased our MyPillow dog bed!
As hard as it is going to be we are going to have to become politically savvy shoppers.
After all, there are millions of us.  I have already quit Walmart and have cut way back on Amazon.  I will be sad to say goodbye to Sam's, but that will be next.
I couldn't find a list of the 22 businesses that are attempting to destroy Christian entrepreneur Mike Lindell, but here are 18 (Sam's makes 19).
Dollar General
ShopHQ
Mattress Firm
Kohl's
Kroger
BJ's
Wayfair
Bed Bath & Beyond
TSC/The Shopping Channel
H-E-B
Affirm
Fingerhut
Kinney Drugs
Colony Brands
Bluestream
Coborn's
Chewy.com
JCP
Okay, so Walmart (Sam's soon) out of my life, I figured I would be back full time to a local grocery store, the Giant Foods chain that includes Martin's where I live, that is,  until reader Cathy sent me this story.
If this appears in Martin's, I am done there too!
From the Right Scoop last month on shame shopping….
Major grocery store goes WOKE, now labeling products as 'black-owned', 'hispanic-owned', LGBT-owned, etc…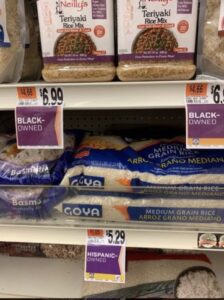 I wonder what the conservative Trump-supporting Goya Foods CEO thinks about this. Does anyone know?
I know it is going to make our lives a little harder as we give up companies that are working against America First, but head on out and find local stores in which to spend your money.
Over the years I've spent more than a few bucks on garden supplies and bird seed, but will never do it again at Walmart.  There are locally owned small garden centers that will be getting my money from now on.
Got tips?
Be sure to tip us off if you know of other major chains which are using their money (our money!) to promote Socialist state/federal government and bully conservatives into submission.