I am overwhelmed, as I guess you are too!   I could turn this whole blog over to posts on election fraud, if I didn't want to have a life!   But thankfully there are some excellent sources of news on the subject after you have turned off Fox News!***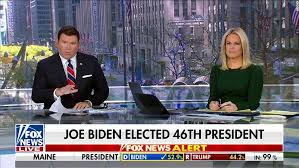 Many America Firsters are calling their cable companies to find out if they can get Newsmax and One America News.
A reader sent me a link for a news aggregation site geared entirely to the 2020 Election Fraud issue.  Update!  Looks like this site might not be going anywhere—no new stories posted today.
And Clarice Feldman writing at American Thinker gives readers some important facts about the potential illegal activity happening in key states and what the Constitution prescribes for election certification in a post published yesterday.
Another Cliffhanger
A Little Civics Lesson
On Saturday, when rallies were scheduled to take place in key battleground areas to demand only legal votes were counted, the major networks announced Biden-Harris were the winners. Apparently, they are under the impression that they decide election results. They don't. On December 14, electors chosen by state legislators cast their votes. No one else but the state legislators have that right. (Article II, Sec. 1,§2 of the Constitution). Certainly not the press, nor state boards of elections, secretaries of state, governors, or courts.

If they have reason to believe the elections in their states were unlawfully conducted and the results fraudulent, they can act to override them. (You can see a detailed history of this section of the Constitution in this fine article by Daniel Horowitz.) The Wisconsin, Michigan, Georgia, and Pennsylvania  legislatures are majority Republican. At first glance these states — particularly the precincts in Milwaukee, Detroit, Pittsburgh, and Philadelphia — are the most suspect.  [Not Atlanta?—ed]

Is there ample evidence of fraud sufficient to have altered the will of the legal voters in these states? It sure looks that way.
Read on for a summary of where things stand as of yesterday, and pay attention to her closing line:
Never give up the good fight. Never hamstring your will to fight-on with pessimism.
Don't miss my friend Leo Hohmann's latest from last night:
Did American Patriots get HAMMERED by the globalist deep-staters?
***Endnote:  I will turn on Tucker Carlson tonight to see if there is any sign that he has been muzzled. If Fox lost Tucker, Hannity, Laura Ingraham and Judge Jeanine they would be finished.
Send me any links you see to stories about whether they are still on board, or are escaping.
And, one more thing, see RRW today as Muslims demand a seat at the Biden table.