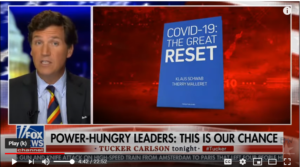 You have likely been hearing a lot about the international globalist/commie/UN plan called the "Great Reset". Our friend Leo Hohmann told you about how the Chinese virus 'crisis' is being used to control us and to put the "Great Reset" in motion here.
I was surprised to see Tucker report on it last night.  (Tucker Carlson is now the only show I watch at Fox News and I am very much enjoying Newsmax's coverage of election fraud.)
If you missed it, you can watch Tucker's whole opening monologue below.  BTW, Carlson put rumors to rest that he was leaving Fox.  He said in the same show that he was staying and that somehow Fox was going to expand his type of reporting.  LOL! Finally Fox has competition and daytime viewers are leaving in droves.
Imagine what Trump TV could do!
I have a dream and that is if the President is replaced via a stolen election with the help of gutless Republicans that he will put together a media empire and hire real investigative reporters to expose the deep state (including Republican deep staters), election fraud, the Biden family enrichment scheme and more.
Frankly, as a 'fire in the belly' leader of an America First! movement, he would be more powerful outside of government than in it.
Tucker gets around 5 million viewers, give or take a million. Other cable 'luminaires' are lucky to reach into the upper 1 million mark.
President Donald Trump would be starting with 73 million viewers!
Update!  Looks like the little creeps at Youtube took it down.  You should be able to see his opening monologue here:
Tucker Carlson: The elites want COVID-19 lockdowns to usher in a 'Great Reset' and that should terrify you