When I started writing this blog a couple of years ago, I figured I would mostly be writing about food stamp fraud, Medicare fraud and miscellaneous political frauds and crooks with an occasional violent crime thrown in.
But, with the arrival of the Black Lives Matter era, the stories jumping out at me are ones that confirm almost daily that white American lives don't matter as African Americans and illegal aliens (some legal ones too) take aim at us and each other.
Indeed the last three stories I posted here are on that subject, here, here, and here.
You have surely read about the news of the mass shooting in downtown Austin, the liberal capitol of conservative Texas that left this man dead.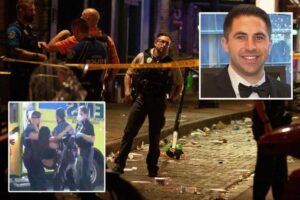 I wouldn't be mentioning it (because I can't write the same blacks killing whites story daily) if it wasn't for the news that I read at The Blaze.
Perpetuating stereotypes!
The Austin American-Statesman newspaper refused to publish the police description of one of the shooters they were looking for saying they would be "perpetuating stereotypes" if they told the public what the punk looked like.
Texas newspaper refuses to publish description of mass shooting suspect: 'Perpetuating stereotypes'
A prominent Texas news outlet refused to publish the police-provided description of a suspect believed to be responsible for a mass shooting in Austin, Texas, over concerns that doing so would be "perpetuating stereotypes."

Police in Austin, the capital of the Lone Star State, announced 14 people were injured after at least one person opened fire on people on Austin's historic Sixth Street after 1 a.m. Saturday.

The perpetrator(s) apparently fired at random. Police did not know the motive, and they said gang-related activity had not been ruled out.

[….]

Yup! Arrested Jeremiah Roshaun Leland James Tabb fits the description. The 17 year-old will be tried as an adult.

When divulging details about the mass shooting, police provided a description of the suspected perpetrator, explaining they were searching for a "black male wearing a black shirt with a skinny build and with dreadlocks."

However, the Austin American-Statesman, one of Texas' most prominent newspapers, refused to publish that description, claiming they would be "perpetuating stereotypes" if they did.
The decision by corporate media to not describe or show a photograph of a perp when the perp doesn't fit the Leftwing narrative the media is promoting is why I often have to search, often without success, for photos and information on where the criminal originated if he or she is a person of color or a new American.
From KXAN:
'This senseless tragedy has put an end to all his dreams': 25-year-old dies in downtown Austin mass shooting
Douglas John Kantor, 25, died from his injuries at an Austin hospital Sunday at 12:01 p.m., police say.

Kantor's family said he was taken to Dell Seton Medical Center.

"He was shot through the abdomen just below the rib cage, straight through," Kantor's brother Nick Kantor said.

"He suffered from the time of the injury until time of death, it was the most gruesome thing I could think to wish on someone. It's painful to discuss, but I think the public deserves to know what my brother suffered."
Two other victims of the over a dozen shot are in critical condition.
A second suspect is in custody.
Editor:  I apologize for not posting your excellent comments promptly.  I have chosen to moderate comments which means that if I have dashed off to work outside I often don't see them for hours and hours. I do get to them eventually!