Last week we learned that the Harris/Biden Administration is not doing so well as the border situation continues to fester.
And, this week we learn from a YahooNews/YouGov poll that the Biden team and their continued attacks on law enforcement (while soft on criminals) isn't sitting well with Republicans AND Democrats.
You can bet the poll skewed Left and still they got results that should be sending shudders through the White House.
Stories like this one are coming fast and furious and American voters are paying attention!
Career criminal is released from jail DAYS before he stabs 94-year-old Asian woman in broad daylight: Reports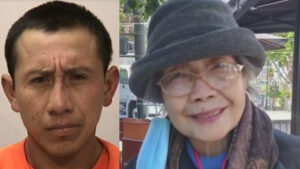 From Yahoo News:
New Yahoo News/YouGov poll: Biden's approval rating falls, as both Republicans and Democrats grow more concerned about crime
Rising worries about crime among both Democrats and Republicans are starting to create a drag on President Biden's approval rating, according to a new Yahoo News/YouGov poll — and could signal larger challenges for the president's party ahead of the 2022 midterm elections.

The survey of 1,592 U.S. adults, which was conducted from June 22 to 24, found that a significant majority (55 percent) now describe "violent crime" as a "very big problem" in the United States — far more than the share who checked that degree of concern for the coronavirus pandemic (36 percent), race relations (39 percent), the economy (41 percent) or political correctness (39 percent).

Even more striking is the fact that the number of Americans who consider violent crime a very big problem rose 6 percentage points over the last month, and Republicans (among whom the number increased from 56 to 65 percent) weren't the only ones contributing to that increase.

Last month, 45 percent of Democrats described violent crime as a very big problem. Now that number is 8 points higher (53 percent).

At the same time, 47 percent of Americans now disapprove of the way Biden is handling crime, up from 43 percent last month; just 36 percent approve.

Among Democrats, disapproval of Biden's approach to crime increased by 3 points (to 17 percent). And while plenty of Democrats still approve of his handling of crime (68 percent), that number is noticeably lower than his approval among Democrats on nearly every other issue, including COVID-19 (91 percent), the economy (83 percent), foreign policy (81 percent), race (81 percent), climate change (81 percent) and immigration (70 percent).  [So that means 30% of Dems see the border crisis for what it is—a crisis out of control.—ed]
See my 'Violent Crimes' category.
By the way, you have probably noticed that the Dems are now saying the Republicans want to defund the police.  Their hubris knows no bounds!