When the news broke yesterday that the meat giant JBS (sometimes known by its previous name Swift) had been hit with a ransomeware attack that shut down meat processing in one of the largest meat processors in the world, my first thought was that if they have financial trouble I don't care.
For over a decade I have reported, at my other blog Refugee Resettlement Watch, how Big Meat and Big Poultry are changing America's heartland by being one of the largest drivers of the US Refugee Resettlement Program.
The work is dirty, wages low and turnover high so they need a never-ending supply of migrant laborers of all stripes including large numbers of Somali 'refugees.'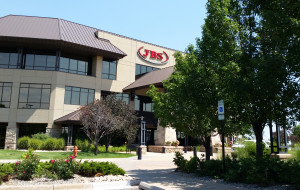 Think about it!  A Brazilian-owned company is changing the demographic make-up of the United States!  And, when you buy their meat, you support changing America by changing the people.
And if that isn't bad enough, since wages are so low, you also fund the social safety net that refugee workers are permitted to tap into.
Did you know that Smithfield Foods is owned by the Chinese?
Is that meat you enjoy worth it?  If you can't live without beef, pork and chicken, I recommend finding a local source!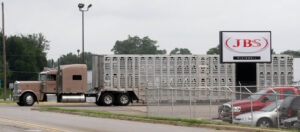 Here is the superficial story about what is going on, from Yahoo News:
JBS: Cyber-attack hits world's largest meat supplier
The world's largest meat processing company has been targeted by a sophisticated cyber-attack.

Computer networks at JBS were hacked, temporarily shutting down some operations in Australia, Canada and the US, with thousands of workers affected.

The company believes the ransomware attack originated from a criminal group likely based in Russia, the White House said.

The attack could lead to shortages of meat or raise prices for consumers.

[….]

~JBS is the world's largest meat supplier with more than 150 plants in 15 countries

~It was founded in Brazil in 1953 as a slaughtering business by rancher José Batista Sobrinho

~The company now has more than 150,000 employees worldwide

~Its customers include supermarkets and fast food outlet McDonald's

~In the US, JBS processes nearly one quarter of the country's beef and one-fifth of its pork

[….]

JBS's five biggest beef plants are in the US, and the shutdowns have halted a fifth of meat production there, according to Bloomberg.

[….]

Last month, fuel delivery in the south east of the US was crippled for several days after a ransomware attack targeted the Colonial Pipeline. Investigators say that attack was also linked to a group with ties to Russia.

Colonial Pipeline has confirmed it paid a $4.4m (£3.1m) ransom to the cyber-criminal gang responsible.
So that is the story for mainstream media consumption—Russian bad boys, just being bad boys—but is something else happening?
Knowing of my interest in meatpacking and  my interest in being prepared (or attempting to being better prepared!), Leo Hohmann directed me to this discussion yesterday at Ice Age Farmer.
It was just posted yesterday and is up to 37,000 views already:
Cyberpandemic Meets Food Supply
Watch it and consider the possibilities presented.  You shouldn't be surprised as we have just experienced the Chinese Virus 'crisis' and how globalists have used it to disrupt the entire globe.
Is the food supply next?