Another story the national media is avoiding like the plague! 
Why? My guess is that because it involves a 'new American' committing crimes against Americans (on a lesser scale of course than our Kenyan Killer) and that is not a good look for the Lefties running the media in Donald Trump's America.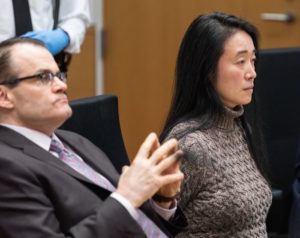 This is an update of that very weird news we reported here and here about the December attack on a female Mt. Holyoke professor by a fellow female Mt. Holyoke professor who attempted to kill her colleague in a case of (supposedly) unrequited love.
Here is the latest news from a couple of weeks ago at the Daily Hampshire Gazette about the strange event at the elite ("inclusive"!) Mt. Holyoke. Thanks to reader Cathy for finding it.
Mount Holyoke professor accused of assault denied bail
GREENFIELD — Judge Mark D. Mason on Wednesday morning withheld the right to bail of a Mount Holyoke College professor accused of using a rock, fire poker and garden shears to attack a colleague in the alleged victim's home late last year.

Rie Hachiyanagi, 48, of South Hadley, pleaded not guilty in Franklin County Superior Court last week to three counts of armed assault to murder a person age 60 or older, three counts of assault and battery with a dangerous weapon on a person age 60 or older, and single counts of mayhem, home invasion and entering a dwelling at night for a felony.

According to a report from Massachusetts State Trooper Geraldine L. Bresnahan, the alleged victim told police Hachiyanagi arrived at her Leverett home unannounced late at night on Dec. 23 and said she "wanted to talk about her feelings." After being invited inside, Hachiyanagi allegedly attacked the victim, striking her with multiple implements including "fists, rocks, garden clippers and a fire poker." All objects were recovered by investigators.

The alleged victim, who was present with supporters in court Wednesday, told authorities she believed Hachiyanagi was going to kill her. According to the report, when the victim asked why Hachiyanagi was attacking her, the assailant allegedly said "that she loved her for many years and (she) should have known." Bresnahan's report also states the victim convinced Hachiyanagi to stop the attack and call 911 by "playing along" and lying about having reciprocating feelings.
Continue reading to see the kinds of points Hachiyanagi's attorney raises in his failed bid for her release on bail.  And, if you are wondering, the victim's identity has not been made public (except surely everyone at Mt. Holyoke knows who she is).
Note to PayPal donors!  I want to thank all of you who send me donations for my work via PayPal. I very much appreciate your thoughtfulness. However, PayPal is making changes to their terms of service and I've decided to opt-out beginning on March 10, 2020.