There are many stories like this one!  Please help them if you can.
See the story at Gateway Pundit today:
Jan 6 Protester Faces 20-Years In Prison For Standing In Capitol For 10 Minutes – Wife Launches GiveSendGo
After stealing the 2020 election, the Biden regime, the Democrat Party and their agitprop media continue to exploit the events of January 6 to warrant a manhunt on Trump supporters.

Branded "white supremacists" and "domestic terrorists," scores of Americans who protested the fraudulent election in Washington DC have since been arrested in pre-dawn raids and hauled off to jail.

Joseph Hackett, a 50-year-old chiropractor, now faces a 20-year sentence in federal prison after "heinously" stepping in the Capitol Building for approximately ten minutes on Jan. 6.

According to court documents, prosecutors claim Hackett allegedly walked into the Capitol Rotunda towards the House of Representatives on Jan. 6 at 2:45 pm. He then left the Capitol at 2:54 pm.

After the protest, he safely returned home to Sarasota, Florida. But, the ten minutes he allegedly spent in the Capitol building would come back to haunt him months later.
Keep reading to hear the whole story!
He has been in jail since May!!!
There isn't much we can do, but we can pray for those wrongly accused, and help them financially.
Joseph's wife Deena launched a crowdfunding GiveSendGo campaign last week in hopes of being able to hire a private attorney to represent her husband.  Please help if you can.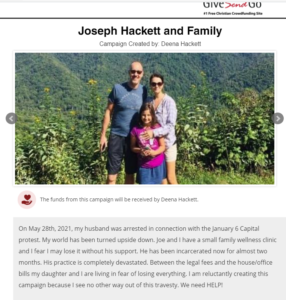 Please pass this along to your patriot friends!  And, help them get the best lawyer money can buy!