"[R]evolution is not a one-time event."
(Atlanta Mayor Keisha Lance Bottoms)
I'm sure you have heard the possibility elsewhere, but just in case here is a piece this week published at Liberty Nation about Atlanta Mayor Keisha Bottoms who would fit the Biden ticket perfectly as a black woman who checks all the boxes—age (she is young), race, gender, geographic location.
And, definitely more attractive than her fellow Georgian Stacey Abrams!  I can't see ol'Joe nuzzling Abrams' ear, can you?
See an AP story yesterday that does discuss Bottoms as a choice.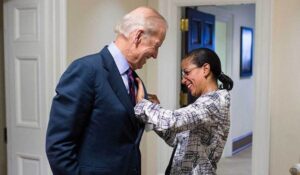 Another option for Biden, says the AP reporter Julie Pace, is Susan Rice.
I would love to see that because Rice has a very checkered history with the Obama Administration that would surely create (fun) fireworks during the campaign.
Bottoms, I think, is a more difficult candidate for the Trump people to attack.
You might have seen her impassioned plea to looters and rioters to "go home" in the wake of George Floyd's death.
Her connection to the Soros Open Borders agenda is one area of vulnerability.
America firsters worry about more migration to America, but so do many educated black voters who understand that more immigrants depress wages for all Americans at the lower rungs of society.
Could Atlanta's Soros-Tied Mayor Bottoms Be Biden's Pick For VP?
Atlanta Mayor Keisha Lance Bottoms has been making a lot of noise lately, and it looks like it might pay off. From her clash with Georgia Gov. Brian Kemp (R) over Coronavirus to her attacks against President Trump over the death of George Floyd, Mayor Bottoms has virtue signaled herself right into the national spotlight as a strong option for Biden's running mate.

Radical Agenda

Bottoms is very much a progressive Georgia politician in the same mold as Stacey Abrams, the former state representative who narrowly lost to Kemp in the 2018 governor's race and is very publicly pining to be Biden's VP choice. Throughout her tenure, Bottoms has taken an antagonistic approach against U.S. Immigration and Customs Enforcement efforts to capture and deport illegal aliens in Atlanta and federal police operations in her city.

This is not mere policy for Bottoms, but a part of what she has described as a "revolution" at two forums hosted by agents of notorious globalist billionaire George Soros' Open Society Foundations.

The Concordia Annual Summit is a yearly gathering of globalists with uniquely intimate ties to Soros. The progressive money lord first publicly discussed his infamous pledge to "invest" $500 million to support refugee resettlement at the group's 2016 meeting. Bottoms appeared at a symposium at the 2018 Concordia Summit titled "Cities & the Private Sector Take the Lead for Refugees & Migrants." Open Societies Foundation exec Dr. Colleen Thouez, who is listed as "Director, Welcoming and Integrated Societies " on the OSF website, introduced the mayor. Immediately after Thouez handed the microphone over to her, Bottoms said the following:

"As we spoke this morning there is a quote from one of my favorite writers Audre Lord that kept playing in my mind, and it was that revolution is not a one-time event. And I think of that often, especially in the work that we are doing throughout our various cities in ways that may seem to be small in scale but really are a part of a larger conversation and a larger revolution, if you will, as it relates to how we address our issues of immigration and migration."
There is more, continue reading Liberty Nation.