Leo Hohmann has been hitting the mark time after time lately and his post today is one of his best yet as far as I am concerned.
A high school football announcer expressed an opinion in a Facebook post about the murder of 83-year-old Dorothy Dow and he was fired from his job.
America at the crossroads: The silent majority vs. the advancing power of the mob
Take, for example, the case of Ray McKnight. He worked as an announcer for the Newnan High School football team in Newnan, Georgia, in ultra-conservative Coweta County. But he was fired over a Facebook post he made this past weekend that his employer deemed "controversial" and offensive, even hurtful, according to the Times-Herald.

What did McKnight say that was so horrible as to warrant his immediate termination?

He said that four people deserved to "hang" for beating and burning 83-year-old Dorothy "Dot" Dow in her Meriwether County home in 2016."
I bet you know where this is going already, you don't even need to see who is sitting in jail charged in the murder.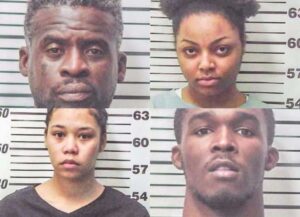 Hohmann continues….
History is littered with examples of folks hunkering down and waiting for a leader to rise up from the silent majority and protect them from the mob.
Please read it all and think about it.
Do you realize that as imperfect as Donald Trump is, because of the beating he takes daily from the mob (on the Left and yes, some on the Right), there will likely be no one person who will be able (or foolish enough) to try to protect us from the vicious mob.
Have we reached a point of no return?  Or, can we muster the strength to fight back now, before it really is too late?