"[B]razen corruption… her theft knew no bounds."
(Pennsylvania Attorney General Josh Shapiro')
Movita Johnson-Harrell has been charged (and plead guilty!) in a massive fraud scheme involving embezzlement from Medicare and Medicaid, charity fraud, and other assorted fraudulent schemes.
Although the story did get a fair amount of media coverage, I hadn't heard about it until a reader, Judy, alerted me to a detailed article at American Thinker entitled:
CAIR Pennsylvania Poster Girl Resigns in Shame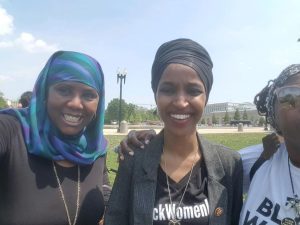 Movita Johnson-Harrell seemed to take pride in her position as the first Muslim woman elected to the Pennsylvania State Legislature. Now that record will forever have an asterisk next to it as Johnson-Harrell has turned herself in to Pennsylvania Attorney General Josh Shapiro's Office, pleading guilty on charges of perjury, record tampering, and embezzling over $500,000 in Medicare, Medicaid, and Social Security disability funds, as well as donations to Motivations Education and Consultation Associates (MECA), a charity she established to allegedly serve the mentally ill and drug addicted poor in her predominately African-American neighborhood.

[Rally for Ilhan is here in case link under photo won't work.—ed]

In a press conference, Attorney General Shapiro described Johnson-Harrell's actions as "brazen corruption… her theft knew no bounds." Johnson-Harrell stole funds that personally belonged to the residents of her facilities and used it to purchase fox furs, trips to Mexico, to make payments on a Porsche, pay delinquent utility bills, cover her granddaughter's private school tuition and even fund her political campaign. After the facility, where residents were living in squalor, was closed, Johnson-Harrell continued collecting their rent from MECA even though the facilities were no longer operating.
Perhaps unsurprisingly, Johnson-Harrell's dereliction of duty extended to her short time as a Pennsylvania state representative.

During her brief period in office, Johnson-Harrell seemed to spend the majority of her time celebrating herself as the first Muslim woman elected to the state legislature, and helping to fundraise and advocate for the Hamas-linked Council on American Islamic Relations (CAIR).

This event happened only in October of this year. If you can stand it go here to watch her talk about herself. https://www.youtube.com/watch?v=-6nLv_-GMiU

Two months after being in office Johnson Harrell flew across the country to Washington State to stand with anti-Israel BDS supporter Congresswoman Ilhan Omar at a CAIR fundraiser with a separatist theme "Muslim Power for 2020 & Beyond."
There is much more here (including many links).
Author Leonard Getz has done a lot of work on this piece, so please visit for more of the disgusting news.
I'm joking, but because I see so many stories,  I do wonder if there are Muslim training programs that teach their followers how to scam the infidels through Medicare and Medicaid fraud, Food Stamp fraud and the all-too-common Day Care Fraud.
With how far Left Pennsylvania is moving, I'm actually surprised the Attorney General would go after a Muslim 'rising star.'
Gives us all hope!
Don't forget to visit Refugee Resettlement Watch as the refugee program is again on front pages of newspapers across the country forcing me to spend more time there then here at 'Frauds and Crooks.'
LOL!  However, there is some crossover between my blogs!
Just as I was wrapping up I came across this (below)!  Pennsylvania Governor Tom Wolf was the first governor in the US to tell the President to send the state more impoverished refugees for the state's taxpayers to take care of.
Oops!
.@RepMovita Johnson-Harrell made history this week as the first Muslim woman to join the Pennsylvania House of Representatives.

Diversity in public service is vital to our democracy and makes us stronger.

I look forward to working together to move our state forward. pic.twitter.com/2NpCn60ia7

— Governor Tom Wolf (@GovernorTomWolf) March 27, 2019