Video images show Arthur Prince Kollie slashed Jupiter Paulsen a 14-year old girl for 25 minutes in a random attack, not in a big crime-infested coastal city, but in Fargo, North Dakota.  She was stabbed 25 times before he attempted to strangle her and left her for dead.
Her family took her off life support on Tuesday.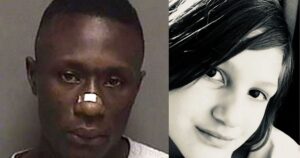 Of course the "man" who looks an awful lot like a West African immigrant to me is never identified anywhere as an immigrant.    I could be wrong, he may be born and bred American trash, move along, just a drifter on drugs.  But, if anyone out there knows more, let me know!
Otherwise, as Ann Coulter has taught us, in cases like this, one has to get out a "secret decoder ring" to figure out where someone (the "man") is from when the perpetrator of a crime appears to be an immigrant.  Again, I don't know that he is, or is not, a 'new American'!
But, by the way, the last name Kollie is a widely used family name in Liberia.  We have thousands upon thousands of Liberians in the US who got here through Temporary Protected Status, a 'temporary' (ha! ha!) refugee program Trump attempted to rein-in.
Here is the dreadful story from Valley News Live.
(hat tip: Daniel)
You might be interested to know that I wrote about refugees in Fargo less than two weeks ago at RRW and cited an interview at Valley News Live.  See that post. Fargo has been a controversial refugee resettlement hot spot for years as Leftists work to diversify America.
Fargo, North Dakota: Deputy Mayor Surprised to Learn Refugees Still Arriving
Valley News Live on Monday:
Records: Suspect says he was high on meth during brutal stabbing of teen girl
FARGO, N.D. (Valley News Live) – Official documents have been filed against the man who police say strangled and brutally stabbed a 14-year-old girl last Friday near a Fargo strip mall.

23-year-old Arthur Prince Kollie is charged with the attempted murder of Jupiter Paulsen, robbery and aggravated assault.

Fargo Police say they were called to 4340 13th Ave. S. after documents say a garbage man was driving through the parking lot and witnessed Kollie leaning over the victim. The witness stated Kollie had one hand on the teenage victim's nose and the other hand on her throat. Documents say video surveillance shows Kollie spent around 25 minutes assaulting the victim before running off.

Documents say Jupiter had suffered approximated 25 stab wounds, among other injuries. The victim was intubated and required surgery. On Monday morning, Jupiter's father told Valley News Live that Jupiter is 'too far gone,' and likely won't make it.

Investigators later learned from the Jupiter's parents that both her cell phone and backpack were missing.

Documents say officers were later called to Walmart on 13th Ave. S. where Kollie had entered with no shirt and black pants on. Security cameras show Kollie taking new clothing, entering a room and later came out wearing new clothing. Officers say they found discarded black pants with what appeared to be blood on them inside the room Kollie went into. Documents say investigators also found shoes with what appeared to be blood on them in the same room.

Police say Kollie was later located in downtown Fargo.

Documents say Kollie told investigators that he suffers from anxiety, depression and multiple personality disorder and is currently living at Stepping Stones Resource Center. Kollie stated he used meth on the afternoon before and had not slept since using.
There is more including information on Kollie's previous run-ins with the law.