I'm sounding like a broken record, but one of the most valuable (peaceful!) political tools is ridicule and if you haven't seen it, President Trump's letter to a snooty actors' union will have you rolling on the floor laughing.
Here is Newsweek's description of what The Donald did:
Read Trump's Resignation Letter From Screen Actors Guild—'You Have Done Nothing for Me'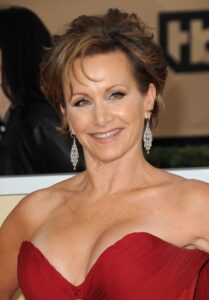 Donald Trump's days in the Screen Actors Guild are over [Gasp!–ed]. The former president resigned from SAG-AFTRA (American Federation of Television and Radio Artists) on February 4 in a letter addressed to the guild's president, Gabrielle Carteris. Trump had been a member of SAG since 1989…
His letter of resignation came after SAG-AFTRA National Board ordered a disciplinary hearing for Trump following the January 6 insurrection on the Capitol. [Insurrection?—ed]
Trump's response—who cares!
Here (below) is the letter.
If this is a sign of what we can expect from the President once the Congress gets past the UNCONSTITUTIONAL IMPEACHMENT CHARADE, this is going to be fun!
(In order for me to enlarge the letter, I separated the header, which I did not want you to miss, in the following screenshots.)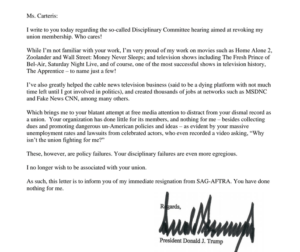 It will be very difficult for them to look powerful, if they look foolish.  So let's all laugh at them every chance we get!
That reminds me, as Twitter is keeping me from getting to my account (I refuse to give them more information about myself), I have moved over to Gab where I have to be careful.
Why?
Because there is so much humor there that I find myself sucked into reading gabs and not getting a lot else done.  Deplorables are so clever!