What that means is that Prime Minister Justin Trudeau is between a rock and a hard place as he has an immigration problem at his southern border!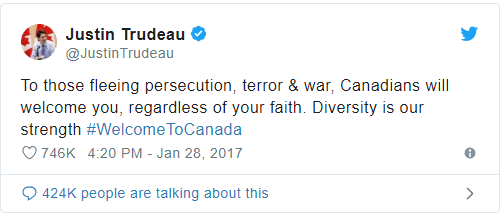 As tens of thousands of wannabe refugees go across the US border between points of entry and into Canada, anti-immigrant political hardliners are making the issue a critical one in the upcoming October national election.
Presently, a treaty with the US allows Canadian immigration authorities to turn back asylum seekers to a safe US at points of entry only, but not in between points of entry.
Canada wants to change the treaty in order to turn them all back, but that is tricky for Trudeau who has put out the welcome mat to the world for the first 3 years of his administration.
"…..the government's proposed changes to the deal would clash with Canada's image as a country that welcomes asylum seekers."
Indeed!
Continue reading "It is Election Year in Canada and Trudeau Wants More Power to Reject Asylum Seekers" →