For the last week or so, the Dems have been (hilariously!) beating a drum trying to flip the narrative and blame the Republicans for defunding the police as they eye the 2022 midterm elections while rising crime has voters nervous.
But, it isn't so funny when you see the White House is in on the action and literally repeating that Big Lie.
Do they think we are stupid, that we didn't watch BLM and Antifa demanding the police be defunded for the last year with Democrat weaklings parroting their Commie agitator friends and taking their hefty campaign donations.
Look at all these rowdy Republicans! 
Getty images has over 2000 shots like these!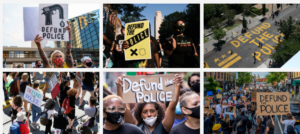 And how about this little nugget….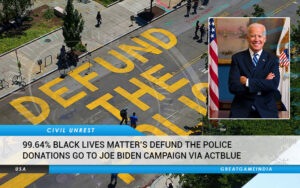 Here is the news about the White House scrambling to point a finger at Republicans….
From NBC News which is working really, really hard to help ol' Joe distance himself from his pals—BLM and Antifa.
White House: Actually, Republicans are trying to defund the police
WASHINGTON — The White House is responding to relentless Republican charges that it wants to "defund the police" by embracing the message that there are, in fact, politicians angling to starve law enforcement of needed money: congressional Republicans.

The White House launched the counteroffensive as advisers push to shore up President Joe Biden's low approval on crime*** and fight an attack that could damage Democrats in the midterm elections next year.

Congressional Democrats are amplifying the push, highlighting their support for bills that would boost money for policing. They cite Republican opposition to the measures, along with the party's lack of interest in investigating the Jan. 6 attack on the U.S. Capitol, which left a police officer dead and many more injured, to claim that Republicans aren't the party of law enforcement.

[….]

"The president, with the backing of leading law enforcement groups, secured the money that his predecessor opposed — to keep cops on the beat — and every single Republican member of Congress voted against it," White House spokesman Andrew Bates said. "The GOP continues to oppose the American Rescue Plan even as it delivers the rehiring of police in their districts."

Republicans are seizing on rising concerns about crime to try to recapture control of Congress next year. Biden is vulnerable on the issue — a new Washington Post-ABC News poll finds that 38 percent approve of his handling of crime, while 48 percent disapprove and 14 percent have no opinion.

A 

USA Today/Ipsos poll

 released in March found that just 18 percent of Americans supported the "defund the police" movement.

In an op-ed Monday for Fox News, Sen. Ted Cruz, R-Texas, slammed the White House's argument as "gaslighting," calling it a "desperate ploy to escape blame for rising crime rates."
There is more here.
The Socialists/Communists (with their friends in the fake news media) are really good at this—they just keep repeating a lie and eventually everyone believes it.
It won't work this time because unfortunately for them for over a year we all watched who was attacking law enforcement both physically and financially and it wasn't America First Republicans.
***More evidence Biden is in deep doo-doo….