They aren't blasting the Chinese Communist Party which is too bad, but are going after Hilton Hotels that supposedly plans (or is already building!) a hotel where a Uyghur Mosque once stood.
I am fine with CAIR going after the globalists if it means for even a few minutes they aren't spitting on us. I would, however, be happier if they called the Chinese Communist Party out directly.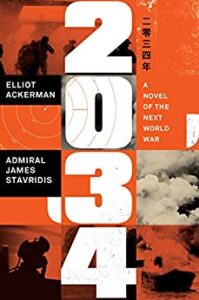 Before I get to this news, I am going off-topic (sort of!).  I'm reading '2034' and it is scary stuff.
In the meantime, my friend Leo Hohmann is posting about an invasion by China and a possible war with Russia, a war which our military seems increasingly unprepared for.
And, of course internally we are in peril as I said yesterday.
I have mixed feelings about even talking and writing this way.  Is it irresponsible to scare the you-know-what out of us, or is it simply a good idea to ponder what is possible and prepare oneself mentally, if as the serious preppers say—the Shit Hits the Fan?  You tell me!
Because I have China on my mind, here is the news about CAIR going after Hilton Hotels.  From the New York Post:
China inks deal with Hilton to build hotel over bulldozed Uyghur mosque: report
Hilton Hotels has allegedly inked a deal with Chinese Communist authorities to build a new property at the site of a Uyghur mosque bulldozed by the government — and the hotel chain is refusing to comment on reports of the plan.

Multiple emails and phone calls made to the hotel chain by The Post were not returned regarding the plans, first reported by the Telegraph earlier this month.

Bitter Winter, an online magazine about religious issues in China, reported Wednesday that the land where the Duling Mosque used to stand in Hotan, part of Xinjiang province, was sold at public auction to a local developer.

That developer, the magazine reported, then signed a contract to develop a Hampton by Hilton Hotel.

The mosque was demolished in 2018, according to satellite images from the Australian Strategic Policy Institute, the group behind the Xinjiang Data Project.

And construction on the Hilton project, the Telegraph reported, is already underway.

Propaganda on the construction site's walls urges those passing by the structure to "warmly celebrate the Communist Party's 100th anniversary," the UK outlet reported.

[….]

The Council on American-Islamic Relations, a top Muslim advocacy group, wrote to Hilton CEO Chris Nassetta earlier this month to protest the deal.

It is not clear what kind of response they received from the hotel CEO. A spokesman for the group did not immediately respond to The Post's request for comment.

Edward Ahmed Mitchell

"Hilton has a unique opportunity to take a clear stance against China's structural human rights abuses and Islamophobia and to set an example for other prominent corporations," wrote CAIR's national deputy director, Edward Ahmed Mitchell.

By ignoring the genocide and continuing to do business in Xinjiang, he wrote, "American [globalist!–ed} corporations would be sending a clear message that it does not support international human rights."
I'm guessing that CAIR's boy Biden is too compromised to help CAIR with its China problem.