It happened almost a week ago at Ft. Bliss' Doña Ana County Range Complex which is in New Mexico where Biden's Operation Allies Welcome is underway.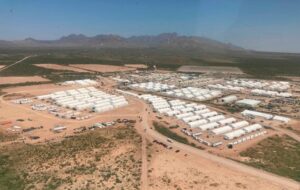 They are not sending us their best! (Gee, where have I heard that before?)
From the El Paso Times:
Fort Bliss: Female military service member assaulted by Afghan evacuees at NM complex
A female U.S. military service member was assaulted by male evacuees at the Doña Ana County Range Complex where Afghan refugees are being housed, Fort Bliss officials said.
Remember they are NOT refugees, so anytime you see the Afghans referenced that way, correct whoever is calling them that***
The woman, whose name and age were not released, was assaulted Sept. 19 by a "small group of male evacuees" at the complex in New Mexico, Fort Bliss officials said.

The incident is being investigated by the FBI.

"We take the allegation seriously and appropriately referred the matter to the Federal Bureau of Investigation," Fort Bliss officials said in an emailed statement. "The safety and well-being of our service members, as well as all of those on our installations, is paramount."

No details on the assault or the suspects have been released.

The victim was "immediately provided appropriate care, counseling and support," officials said.

The victim is among 1,000 service members who are part of Operation Allies Welcome. The U.S. operation is to "support vulnerable Afghans, including those who worked alongside us in Afghanistan for the past two decades, as they safely resettle in the United States," according to the U.S. Department of Homeland Security.

[….]

"Task Force-Bliss is also implementing additional security measures to include increased health and safety patrols, additional lighting, and enforcement of the buddy system at the Doña Ana Complex," officials said. "We will cooperate fully with the FBI and will continue to ensure the service member reporting this assault is fully supported."
You might want to check out a post I wrote at RRW over the summer about the sexual assault crisis Austria has going—-guess who is doing the assaulting?
Austria's Afghan Refugee Problem: Will it be Our Problem Soon?
*** Nayla Rush writing at the Center for Immigration Studies has a very succinct explanation of how the evacuees are being categorized (they are NOT refugees) by Biden's administration and it includes a list of how many Afghans each state will be welcoming.  Go here.
And, as I have been saying at RRW:   Follow John Binder at Breitbart for refugee news of all sorts as I am only writing when I can add something from my long experience of following our dysfunctional refugee admissions system.