Diversity is beautiful alert!
I saw this story a day or so ago and wasn't planning to post it mostly because I am sick of refugee crime stories because they remind me that the US State Department under President Trump is still bringing in refugees who should not be here, and we are paying for it!
Dear taxpayers, these three are living off of your generosity!  Probably not working and using your money to pay for sex.
And, I am writing about it to remind you that Boise is a welcoming city!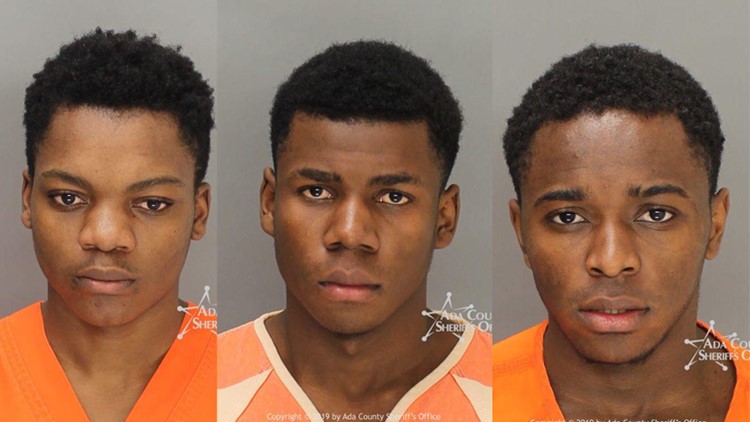 From KTVB.com in Kuna, Idaho (20 miles from Boise),
Men accused of Kuna gang-rape arraigned; protest innocence to judge
KUNA, Idaho — Three of the defendants charged with gang-raping a woman in Kuna told a judge during their initial arraignment Friday afternoon that the accusations against them were false.
Elias Lupango, 19, Rashidi Mulanga, 18 and Swedi Iyombelo, 18, all of Boise, were arrested Thursday on the felony rape charge. A fourth suspect, a 16-year-old boy, was arrested Friday morning on the same charge.
Because the fourth suspect is a juvenile, his name has not been released, and he did not appear in court with the other defendants.
According to the prosecutor, the 18-year-old woman and Iyombelo made contact over social media and agreed to meet up in a Kuna neighborhood Feb. 7. The two agreed to hang out, but sex was not discussed, he said.
"The victim believed she was meeting only one individual, your Honor," the prosecutor said. "The victim arrived at the location and observed four males, not just one. She stated to law enforcement that she was initially apprehensive upon arriving, but stayed."
Iyombelo and the 16-year-old got into the victim's car, and the woman and Iyombelo began having consensual sex, the prosecutor said.
But after the sex began, the woman told Iyombelo to stop, she told police. According to the prosecutor, Iyombelo later admitted to detectives that the woman said no three times, but he kept having sex with her.
The other three defendants then took turns raping the victim, the prosecutor said.
[….]
The defendant's public defender asked the judge to set a much lower bond, around $2,000. She told the judge that the men had struck a deal with the 18-year-old before the encounter.
"Apparently she had been aware that there were four of them and that they were going to pay her for sex," the attorney said. "There's a little more to this story than we all know at this point."
Comstock ultimately sided with the prosecutor, ordering each man held on a $250,000 bond.
More details on how the crime went down, here.
Were you asking yourselves, since when is Tanzania sending refugees to the US?
This is a key line that may have you confused,
All three suspects are refugees from Tanzania, according to their public defender; Mulanga has been in Boise for six months, while Lupango and Iyombelo have been in the area for three years.
I checked the Wrapsnet data base and sure enough we only took a couple of Tanzanians over the last few years and none were placed in Idaho.
However, I remembered that the US and the UN opened a big new refugee processing center in Tanzania mostly for the tens of thousands of DR Congolese 'refugees' we are moving to America….and are still moving here under the Trump Administration!
See my story in December 2017.
So, the 'secret decoder ring' tells me that these 'new Americans' are likely some of the almost 50,000 from the DR Congo we are bringing in to add more diversity to your towns and cities.
Check out this map, Idaho is one of the top states for the placement of DR Congolese over the last five years.  (Obama promised the UN that we would take 50,000 and Trump is fulfilling the promise!).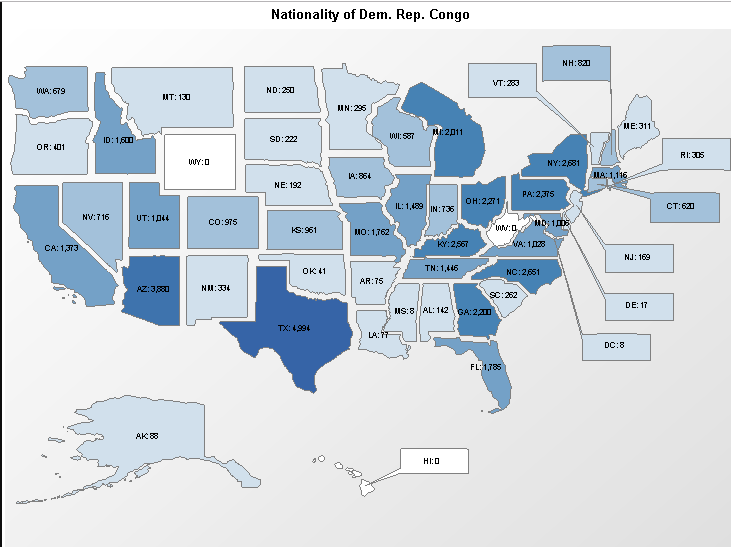 You can see that Idaho is at 1,600 since FY14 began.  130 DR Congolese were placed there since October 2018 (the beginning of FY19).
What do you do? I frankly don't know. We thought we did something by electing Donald Trump!
The nine federal resettlement contractors were all funded by the Trump State Department, the media (outside of the local area) could care less about a few rapists/crooks/criminals running loose, and the Open Borders/big business lobby is huge and well-funded.