One hundred and eight people have been murdered in Baltimore so far this year.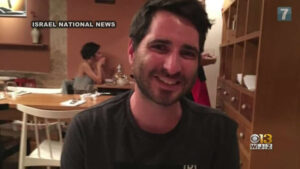 They say they have video of the thugs wandering the neighborhood and one of them approaching Efraim Gordon before he was killed, and a reward has been posted for information, but no arrest yet in the young Jewish man's murder.
I didn't post this last week because I wanted to report the arrest or arrests and assumed that within a day or so arrests would have been made in a case that Gordon's family in Israel and the Israeli press are watching closely.
As of this morning no news of an arrest, so I will update this post if and when the killer or killers are found.
Here is the latest from three days ago from CBS Baltimore:
Community Devastated After Efraim Gordon Murdered While Visiting Baltimore, Volunteers Hand Out Flyers
BALTIMORE (WJZ) — Community members are both angry and concerned after an Israeli man was murdered in Baltimore.

Members of community walked several blocks to hand out flyers informing neighbors of a $30,000 reward in hopes that someone will come forward with information regarding Efraim Gordon's murder.

[….]

Baltimore Mayor Brandon Scott, left, and MD Governor Larry Hogan plan to have a chit chat this week about crime in Baltimore. Yeh, that should solve the problem.

Gordon, 31, was murdered Monday near aunt and uncle's home on Fords Lane and residents continue to express their frustrations with the city's high crime rate.

"It's not just about one man, it's like this is a pattern," said a man, who also brought his children along to help hand out the flyers.

"This has just devastated the entire community," said Councilman Yitzy Schleifer, "and you have a lot of people taking off of work to go door-to-door hanging up signs to make sure those responsible for this murder are brought to justice."

Gordon was from Israel and was visiting Baltimore for the first time for his cousin's wedding. His sister spoke with Israel National News.

"Nothing was stolen. He had his watch, his passport, his ID, his bag of money," said the victim's sister, Ella Gordon. Detectives say they will review camera footage in the area for possible leads.

[….]

Baltimore's crime problem has been a big talking point for politicians this week. Ninety nine people were killed at this time in 2020 compared to 108 so far in 2021.

Governor Larry Hogan and Mayor Brandon Scott exchanged words on Twitter addressing the issue of crime in the city.
And, here is a brilliant idea from three days ago….
Defund Baltimore's police department! That should solve the crime problem!
From the Real News Network:
POSTED IN
BALTIMORE
BATTLEGROUND BALTIMORE: SUPPORT FOR DEFUNDING THE POLICE GROWS
I say just let these big blue cities rot as the good people leave!
Off topic, but not really, check out The Well Armed Woman website and see if there is a chapter near you!