I'm continually amazed at the complexity of the scams many foreigners are using to rip-off Americans and America.
Stories similar to this one pass me by every day and I can't possibly post them all, but ones with a twist, like this one, are interesting and worth reporting.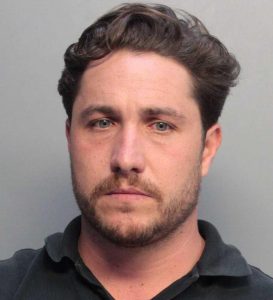 In this case Estefano Dall Anese Borlotti, 35, is here illegally and according to one report on his arrest, he used a Brazilian passport to obtain a Florida drivers license—is that possible!
Can a person in the country apparently illegally (he is now being held on an immigration detainer) just willy-nilly get a drivers license?
Here is the bare outline of the scheme that enabled him to steal tens of thousands of dollars from New Hampshire banks.
Secret Service: Brazilian's bank data scheme hits Seacoast ATMs
PORTSMOUTH — A Secret Service agent's affidavit alleges a Brazilian man, with unnamed accomplices, were able to transfer stolen bank data onto Dunkin' Donuts gift cards they used to withdraw more than $100,000 from bank ATMs in Manchester, Barrington, Dover, Durham and Portsmouth.

The affidavit was filed with the U.S. District Court of New Hampshire by Special Agent Timothy Benitez on Oct. 24, leading to a warrant for the arrest of Estefano Dall Anese Borlotti, 35.

Miami, Florida, police records show Borlotti was arrested Thursday for unrelated charges alleging he "reincoded" stolen bank data onto credit cards and is being held there on $22,500 bail, as well as an immigration detainer.

[….]

The federal charges in New Hampshire allege Borlotti reincoded bank account information onto Dunkin' Donuts cards to withdraw cash at Federal Savings Bank locations in Barrington, Dover, Durham, Portsmouth and Rochester at different times in April and May.

[….]

The affidavit notes the Dunkin' Donuts cards contained "a wide variety of both United States and foreign" bank account information and were used to withdraw cash across the Seacoast, as well as in Brazil.

[….]

Miami, Florida, police records report Borlotti is being held there on charges alleging trafficking counterfeit credit cards, organized fraud and two counts of credit card forgery/intent to defraud. He's also being held on a federal Immigration and Customs Enforcement detainer, according to court records.
Read the whole story for more details on the scam.
And, see here where we learn about the drivers license:
Officials said Borlotti has a Brazilian passport, which he used to obtain a Florida driver's license.
Such clever foreign fraudsters among us!
Reminder!  Almost every day there is new news at Refugee Resettlement Watch. Check it out!