What is most interesting to me about this lengthy report entitled 'The US saw significant crime rise across major cities in 2020. And it's not letting up,' is that it was written by reporters at CNN and you will not be surprised to see some of the reasons why murders, rapes, assaults and robberies are on the rise.
Of course, claims are made that the Chinese virus played a role for various reasons, but so did those riots we witnessed throughout the summer of 2020.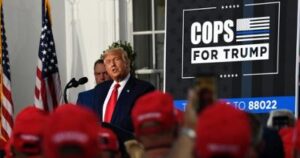 And, of great concern both from the riots and from the failure of the legal system to mete out sufficient punishment is the fact that police officers are feeling demeaned by the defund the police movement.
Yes! CNN is saying this, something you surely wouldn't have seen in the run-up to the 2020 presidential election because those are the things Donald Trump was saying.
But, before I get to the analysis of a study released by the Major Cities Chiefs Association that documents the alarming rise in crime, please see this dreadful story from South Carolina.
A Christian doctor, his wife and two grandchildren, along with an air conditioner repairman who happened to be working at the house were gunned down by a black, former football player, apparently angry because his drugs had been cut off.
From the NY Post:
Ex-NFL player Phillip Adams reportedly had his medication taken away before killing spree
This is Dr. Lesslie and his granddaughter one of two of his grandchildren slaughtered this week.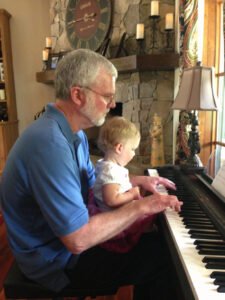 When you look around at the stories in the mainstream media you will see a focus on how football messed up the killer.
That is the same spin as the convenient excuse used by the mainstream media when the black guy killed the Capitol police officer last Friday.
Adams killed himself after killing the doctor, his wife and two grandchildren, so this will be the end of this sad story except for those in the shattered Lesslie family.
And, for the family of a repairman who surely now has a grieving family too.
Although no one was killed this time, see a disgusting violent display posted at Gateway Pundit where some black women assaulted a hapless white US postal service worker because she didn't have their stimulus checks.
Before I get to the CNN report and the crime study, in 2020 numbers skyrocketed as first time gun buyers hit an all time high. Women especially didn't have to see a study to know that they need to protect themselves now more than ever.
I wondered if the Lesslie family had a gun, but even if they did I'm guessing they had no time to get it.
The US saw significant crime rise across major cities in 2020. And it's not letting up
It's nearly impossible to attribute any year-to-year change in violent crime statistics to any single factor, and homicides and shootings are an intensely local phenomenon that can spike for dozens of reasons.

But the increase in homicide rates across the country is both historic and far-reaching, as were the pandemic and social movements that touched every part of society last year.

[….]

Experts point to a "perfect storm" of factors — economic collapse, social anxiety because of a pandemic, de-policing in major cities after protests that called for abolition of police departments, shifts in police resources from neighborhoods to downtown areas because of those protests, and the release of criminal defendants pretrial or before sentences were completed to reduce risk of Covid-19 spread in jails — all may have contributed to the spike in homicides.
Some cities will "outpace last year's numbers" in Joe Biden's America!
Through the first three months of 2021, a number of major cities have indicated they are still experiencing high rates of violent crime, according to Laura Cooper, executive director of the Major Cities Chiefs Association. "Some cities are set to outpace last year's numbers," she said.
Protests were violent!  No kidding CNN!
St. Louis riots. Completely missing from CNN's report are the words Black Lives Matter. I believe those three words have become a license to kill.

Protest messages varied from defunding departments to outright abolition of police forces and were sometimes violent and occasionally led to looting and other property destruction. Many protesters largely dismissed the legitimacy of American police.

Police departments were often forced to shift officers from neighborhoods where violent crime occurs to downtown areas to staff protests. Police in St. Louis staffed 160 protests downtown last summer, according to that city's police commissioner, Col. John Hayden Jr.
Who would have guessed: "If you stop policing, violence goes up."
CNN continued….
Another aspect of de-policing relates to low morale among officers as a result of the Defund the Police movement. Police Commissioner Harrison noted that diminished performance by officers leads to increases in violent crime as a result of officers feeling "under attack."

"Whenever you have an anti-police sentiment," says Harrison, "you can very well have police officers who are not as motivated to go out and really be proactive because it's perceived that people don't value police."

The heightened scrutiny of police departments has created an environment where officers are less likely to stop people out of fear of getting in trouble and being videotaped while making an arrest, said Moskos.

"It's not that they've stopped working, but if they see someone suspicious in an alley, they just ignore it when a year ago they might have stopped him and figured it out," he said. "Because what happens if he resists arrest?"
Free to kill because there will be no consequences!
The factors that determine whether an individual decides to commit a crime have everything to do with the likelihood of getting caught, and if they are caught, whether there will be consequences, said Baltimore's Commissioner Harrison.

Harrison says the sweeping shut down of the criminal justice system for almost a year sent the message that people won't be held accountable for their crimes.
There is much more.
Chicago, Houston and Memphis are three cities singled out by CNN reporters.
Marvel at the report that would never have been written in the run-up to the (stolen!) 2020 presidential election.
Find a city near you!
See the Major Cities Chiefs Association Crime Report by clicking here.
And, it isn't getting better:  "Some cities are set to outpace last year's numbers!"  
If your city is one of those experiencing a spike in crime in Joe Biden's America, why not write a letter to the editor of your local paper.  I doubt very much this is data that your likely liberal local media will want to report.