In case you missed it!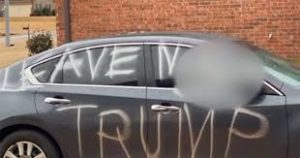 From Bizpacreview:
Mississippi man falsely reports racist, pro-Trump graffiti on his car, meets up with KARMA
A Mississippi man has been charged with insurance fraud after claiming his vehicles were spray-painted with racist, pro-Trump graffiti last month.

Trumaine Foster was arrested for the hate crime hoax on Friday by Southaven police, charged with insurance fraud and tampering with evidence following a report in early February that his two vehicles had been vandalized, WREG-TV reported.

Foster said he woke up on Feb. 4 to find one of his vehicles had "N****r" spray-painted on it, while another car had "Leave N****r' and "Trump" painted along its side. A local pastor and resident of the community where Foster lives expressed his shock over the act in an interview with WREG at the time, saying the incident was in no way an "indictment" of Southaven.

The good pastor immediately concluded that indeed there was a racist Trumpster in their midst.

"This had to be unnerving for a quiet family to come out to their cars and see what they saw there," Pastor Vincent McCaskil said.

"It's time for us as believers to truly speak up and speak out against it," he added. "We cannot remain silent against this."
Continue reading to see how Foster's hoax went terribly wrong—for him.
Note to PayPal donors!  I want to thank all of you who send me donations for my work via PayPal. I very much appreciate your thoughtfulness. However, PayPal is making changes to their terms of service and I've decided to opt-out beginning on March 10, 2020.