The Capitol Police Officer who shot unarmed Ashli Babbitt has been let off the hook and we are not going to be given his name.
After we watched Police officers (usually white) across America being named and dragged through the mud (and cities burned) by the likes of Antifa and Black Lives Matter for shooting armed and unarmed black men, the double standard is once again on full display.
See my earlier post on the tragic death of an Air Force veteran. Here is the update.
From Gateway Pundit:
Investigators Recommend No Charges For Capitol Police Officer Who Shot and Killed Ashli Babbitt But Still Won't Release His Identity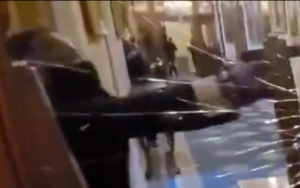 It is unusual that the police officer's identity is being withheld from the public and yet he is being exonerated of any wrong doing from the authorities reviewing the case.  These are very suspicious actions indicating there may be more to this very sad story.
It is the egregious double standard that we are treated to that will make any 'healing' an impossible joke.