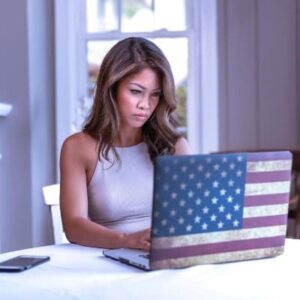 In case you missed it, and you might have because corporate media and even some Republicans have been working hard to silence the indomitable Michelle Malkin, here is her analysis of the sudden Haitian invasion of our wide open southern border.
At the Santa Barbara News-Press:
The manufactured border crisis
In nearly 30 years of covering America's corrupted immigration and entrance policies, I can tell you definitively that every "border crisis" is a manufactured crisis.

Caravans of Latin American illegal immigrants don't just form out of nowhere. Throngs of Middle Eastern refugees don't just amass spontaneously. Boatloads of Haitians don't just wash up on our shores by random circumstance.

All the world's a stage, and as I exposed in my most recent book, "Open Borders, Inc.," the world's migrants are nothing more than expedient tools to globalist elites, profit-maximizing corporations, self-aggrandizing religious and nonprofit groups, and criminal smuggling syndicates.

That's how the so-called border crises under former Presidents Bill Clinton, George Bush, Barack Obama and Donald Trump all played out.

The players are always the same: United Nations operatives, U.S. Chamber of Commerce lobbyists, the U.S. Conference of Catholic Bishops and its sovereignty-undermining shelter operators around the world, Jewish and evangelical Christian refugee resettlement contractors, international drug cartels, human traffickers, and their militant multicultural abettors.

It's the same old, same old under President Joe Biden.
Editor:  Apologies from me for not being able to keep up with everyone's requests for information.  I am overloaded on all fronts as I try to maintain some balance in my life.  Some of you have noticed that I have deactivated my Facebook page—yes, I have.
My e-mail boxes are full and overflowing! The very best way to reach me is to send a comment to this post if there is something you want me to see.  I do review and moderate comments every day or so, and if you have sent me  some information that is off topic, I won't post it, but will see it.