Surely you've seen the news, but what interested me most this morning is that the usual major news sources, even Fox News, have very few details.  So, why is it that we have to go to the UK Daily Mail (again!) to get more.
And, I want to know who the victims are!  Some of our finest young men and women?
Six Saudis are arrested over Pensacola naval base shooting including three who FILMED the attack by countryman who killed three and wounded eight before being shot dead – as FBI probes terror link
The Daily Mail generally includes a very handy list of bullet points like these!
~Shooting took place on base early Friday morning, sparking a lockdown

~Sources identified the suspected gunman as Saudi Air Force aviation student Mohammed Saeed Alshamrani

~As of Friday evening, six Saudi nationals have been detained for questioning
It's reported that three of them filmed the shooting as it happened

~Rep Matt Gaetz, a Republican representing Pensacola, called the shooting 'an act of terrorism'

~President Trump tweeted that King Salman told him 'the Saudi people are greatly angered by the barbaric actions of the shooter…'

~Three other people were shot and killed during incident inside classroom building on base
Read the whole story, but here are a few additional snips, plus a photo the Daily Mail says is the shooter.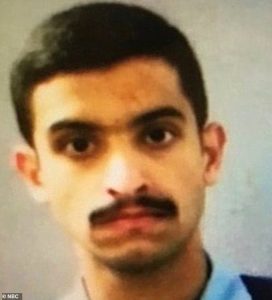 In recent weeks, 18 naval aviators and two aircrew members from the Royal Saudi Naval Forces were training with the US Navy, including at Pensacola, according to a November 15 press release from the Navy. It was not clear if the suspected shooter was part of that delegation.

The delegation came under a Navy program that offers training to US allies, known as the Naval Education and Training Security Assistance Field Activity.

A person familiar with the program said that Saudi Air Force officers selected for military training in the United States are intensely vetted by both countries.  [We are so stupid, they are skilled liars!—ed]
Amazing how we didn't learn anything from 911.  We don't need to invite any Saudis to America, let alone to train them to fly.
And, for goodness sake, this attack happened on a Navy base, but it required local police to take out the shooter.  Why aren't there armed Navy men and women protecting the base? (While dreadful people like Mohammed obviously carry guns on base!)