That is what President Trump's former Ambassador to Germany and former Acting Director of National Intelligence is saying, and I think he is onto something.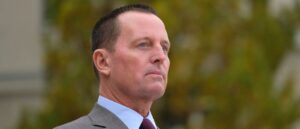 If you are thinking it is Kamala Harris, give Grenell's assertions some thought.
You may recall that Harris and Rice were both under consideration to join Joe on the ticket as Veep mainly because both are black women, and in the age of BLM, Joe was throwing a bone to an increasingly doubting black voter base.
The problem for Rice was that she is best known for her massive lying spree about what happened in Benghazi and no one on the Democrat team wanted that nightmare revisited.
Here is Grenell at Fox News:
Grenell calls Susan Rice the 'shadow president' and 'no one is paying attention'
Richard Grenell, the former acting director of National Intelligence under President Trump, said in an interview with CPAC that he believes Susan Rice has assumed the role of a "shadow president."

Rice, who served as national security adviser under President Obama, was tapped last December by President Biden to take charge of the White House Domestic Policy Council. It is in that role that Grenell believes she is exerting her influence.
I don't have time for even a cursory analysis of Rice's history, but I wrote about her often over the years at RRW because it was she, Samantha Power and Hillary, the "Vulcans", who were responsible for the destruction of Libya which in turn resulted in Libya becoming the major African launch pad for the illegal migrant invasion of Europe.
Daniel Greenfield writing at Frontpage in May of 2020 did a thorough job of describing Rice's character and career.
How Susan Rice's Role in the Rwandan Genocide Predicted Obamagate
A woman who can turn her back on genocide would hardly blink at spying on Republicans.
A woman capable of seeing the murder of hundreds of thousands of people [referring to her screw-up on the Clinton-era Rwandan Genocide.—ed] only in terms of an election campaign was a bridge too far even for a party of traitors and appeasers who still believed in something.

But Rice, an abrasive political operative and intellectual lightweight, understood that her only career path was a willingness to find a boss and do anything for him. No questions asked. That's why Rice ended up as the point woman on Obamagate and why she went out to lie about Benghazi.

As Dowd wrote damningly, Rice had rented her soul, "on the talk shows one Sunday in September." The New York Times columnist was referring to Rice's tour of talk shows where she falsely claimed that the Benghazi attack had really been a protest in response to a YouTube video, and that it was spontaneous, rather than a planned attack, all of which contradicted the intelligence and local information.
Read it and keep it.
Just a reminder…
Here is the woman supposedly now, according to Grenell, running the White House because Joe, frankly, isn't all there.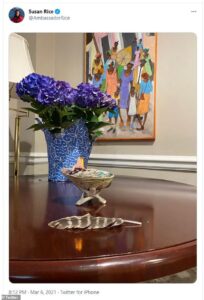 That is all I have time for, just wanted to put this on your radar screens to watch going forward.
P.S. Rice made some news in March when it was learned that she was "burning sage" in her White House office to purge the evil spirits supposedly left behind by Trump advisor Stephen Miller.  Prayers for America with 'leaders' like Rice.