This is pretty outrageous—how did this whole gang of international crooks even gain entry to the US in the first place?  And, why are we never given any information about which of our many ways of gaining entry was exploited?
From Chile, not the usual Mexican or Central American gang either!
Thanks to reader Jonathan for the tip:
From News 12 Long Island:
Police: 3 members of Chilean burglary crew strike homes in Nassau
(Don't miss the news clip where authorities suggest they may have taken advantage of new bond laws.)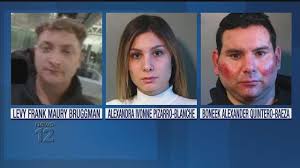 Three people were arrested Tuesday in connection to numerous home burglaries in Nassau County.

Police say the suspects arrested were part of a burglary organization from Chile.

Police arrested Boneek Alexander Quintero-Baeza, 32, Alexandra Ivonne Pizarro-Blanche, 23, and Levy Frank Maury Brugman, 23, at a residence in College Point, Queens. Police say all three are from Chile and were taken into custody after authorities received tips about a burglary in Hewlett Harbor.

According to police, Quintero-Baeza broke into the Hewlett Harbor home in September and stole $25,000 in cash, designer bags and jewelry. Quintero-Baeza and Brugman also committed a burglary in New Jersey and had been released without bond.  [Imagine that, an arrest of foreign nationals for burglary and they were released!—ed]

Prosecutors said in court that Quintero-Baeza has a long criminal record of burglaries in Spain and Argentina. [And, we let him in!—ed]

[….]

Authorities say they recovered jewelry, hand bags, electronic devices and clothing believed to have been taken from homes. Police say multiple identifications were recovered and are believed to be aliases for the defendants allowing them to operate within the United States.

Police say a fourth suspect, Bryan Maldonado, is still at large. Police believe Maldonado is the ring leader and say he is also from Chile.

Nassau police believe the Chileans may be part of a larger criminal operation that stretches across the U.S. They say detectives are now working with federal authorities.